Sixth-ranked Tigers Win Big Four Classic; Kielty Earns Medalist Honors
April 8, 2010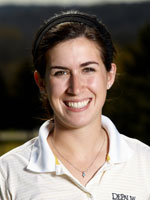 April 8, 2010, Carmel, Ind. — The sixth-ranked Tigers shot a 338 and won the Big Four Classic by seven strokes over Butler at Crooked Stick. Franklin was third with a 353 and Hanover fourth at 383.
DePauw's Erin Kielty (pictured) was the medalist with an 80, while Taylor Beaty was tied for second with an 83 and Ali Rifkin was fourth with an 84. Kelly Gaughan and Natalie Gough each shot 91 and tied for 14th.
The Tigers host the Katman Klassic at Twin Bridges in Danville, April 10-11.
Follow DePauw Athletics on Twitter | Become a Fan of DePauw Athletics on Facebook
Big Four Classic
Crooked Stick GC
Carmel, Ind.
Dates: 4/8/2010
Par 71, 5996 yards  (4 teams, 19 players)

DePauw University............. 338   +54      1st
Erin Kielty...................  80    +9      1st
Taylor Beaty..................  83   +12   t- 2nd
Ali Rifkin....................  84   +13      4th
Kelly Gaughan.................  91   +20   t-14th
Natalie Gough.................  91   +20   t-14th

Butler University............. 345   +61      2nd
Molly Fields..................  83   +12   t- 2nd
Clare Cornelius...............  87   +16   t- 7th
Allison Lipps.................  87   +16   t- 7th
Marcella Moreman..............  88   +17   t-10th
Michele Nash..................  88   +17   t-10th

Franklin College.............. 353   +69      3rd
Brittany Stephens.............  86   +15      6th
Brittany Brownrigg............  87   +16   t- 7th
Grace Adams...................  90   +19   t-12th
Natalie Daugherty.............  90   +19   t-12th
Sam Marshall..................  92   +21     16th

Hanover College............... 383   +99      4th
Becky Roberts.................  85   +14      5th
Natosha Wood..................  94   +23     17th
Paige Schroeder............... 100   +29     18th
Bridget Neal.................. 104   +33     19th

# Indicates individual player

Back