Baker Named SCAC Female Swimmer of the Year
April 13, 2010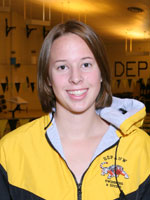 April 13, 2010, Greencastle, Ind. — Based on exclusive voting by the head coaches of the Southern Collegiate Athletic Conference, DePauw sophomore Catie Baker has been named the conference's female Swimmer of the Year.
Baker was the Tigers' high-point scorer this year with 499 points individually and 615.75 including relays which set the DePauw single-season record.
She was named SCAC Swimmer of the Meet with wins in the 200-yard individual medley and the 100 & 200 breaststrokes. Her win in the 200 breast was an SCAC meet and open record. Baker also achieved an NCAA "A" cut in the 200 breast and "B" cuts in the 200 IM and 100 breast.
At the NCAA Championships, Baker earned all-America honors with her sixth-place finish in the 100 breast with a school record of 1:04.98. She earned honorable mention all-America in the 200 IM with a 13th-place finish (2:06.56) and the 200 breast with a 10th place finish of 2:20.39, which established a school record as well as an SCAC open record.
Besides breaking her own individual school records in the 100 & 200 breast, Baker was also a member of the 800 free relay which set a school record as well as SCAC meet and open records at the SCAC Championships.
Back