Fulbright Kickoff 2010
April 13, 2010
The month of April brings to a close another year for the Fulbright Program at DePauw, as this year's finalists await word from host countries. Meanwhile, "Fulbright Kickoff" information sessions on Wednesday, April 14 (301 Harrison Hall; 4 p.m. and 7 p.m.; open to all students) mark the beginning of the process for many of next year's hopefuls.
Of all the nationally competitive awards, the Fulbright receives significant attention on campus due to its connection to the type of international education offered at DePauw.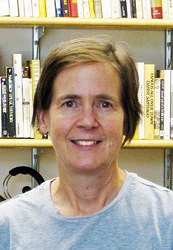 "We have a long tradition of sending students overseas," says Marnie McInnes, professor of English and director of nationally competitive awards at DePauw. "A Fulbright grant is the natural next step for students to learn about other cultures and to serve as ambassadors for the United States."
Those shared values have also helped to produce a significant number of Fulbright winners at DePauw. During the past decade, 28 DePauw students and faculty members have won a Fulbright or Fulbright-affiliated award. That number is weighted heavily towards the last five years as the University has steadily increased its award advising efforts. For four consecutive years, The Chronicle for Higher Education has listed the University as one of the Top Producers of Fulbright Awards for U.S. Students.
Professor of Economics and Management Humberto "Bert" Barreto recently took over as DePauw's Fulbright Program adviser. Like his predecessor, Professor of Computer Science Douglas E. Harms, Barreto received a Fulbright Scholar grant, which he spent teaching in the Dominican Republic. He says that the Fulbright Program appeals to him because, while extremely competitive and prestigious, many DePauw students can make a strong case for the award.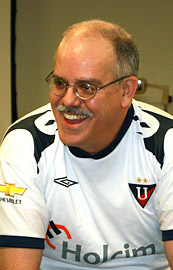 "There's a misconception that winning a Fulbright is essentially impossible," Barreto says. "Students think, 'I'm not valedictorian, so I shouldn't even try.' While it's true you need to be talented and smart, there are lots of talented and smart people here at DePauw."
Two major Fulbright grants help send American students to more than 150 countries: one that covers graduate study and research overseas, and another designated for English language teaching at elementary, secondary, and post-secondary schools. Students from all academic majors may apply for these grants as long as they are able to show how their academic, extracurricular, and career interests are connected to the work they will do in their proposed host country.
That doesn't always mean that a Fulbright winner knows what to expect in his or her new home.
Seth C. Elder, a 2008 DePauw graduate, received a 2008-09 Fulbright grant to conduct research in Macedonia. A classical studies major, Elder was inspired to pursue a Fulbright when a trip to Pompeii revealed surprisingly conflicting attitudes towards preserving cultural heritage sites. Macedonia, as a hotbed of classical history and a modern mix of cultures, seemed like an appropriate location for further study.
In Macedonia, Elder explains that his role quickly turned into "an academic-cultural ambassador-at-large."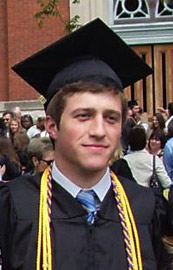 "[Especially in a small country such as Macedonia,] the U.S. State Department emphasizes the importance of the diplomatic role of a Fulbright student," Elder says. "My State Department contact was not interested in my research project, but instead urged me again and again to find ways to meet and mingle with Macedonians in social settings. So, I met with friends and faculty members from the university for drinks in the afternoon, asked them to take me along with them to cultural events, and had a great time doing this. I also helped archaeologists translate their scholarly articles into English. They assumed I had completed a Ph.D. at age 23."
And somehow, there was still time for him to conduct his research at sites around the country, and write articles and book reviews for English-language Macedonian media.
During a Q&A session with DePauw students interested in pursuing a Fulbright, Elder described his trip as "the best year of my life up to this point."
"I would absolutely encourage any student to apply for a Fulbright, especially because many DePauw students are very well positioned to be awarded one," Elder says.
One major point that Barreto and McInnes reiterate to students who remain on the fence about applying for a Fulbright is that the application process itself is valuable. Elder agrees.
"Once you complete one major grant application -- even if it is unsuccessful -- it's that much easier to finish another," he says. "And that second application will be all the better for the effort."
Barreto himself benefited from the Fulbright process indirectly. In the mid-'90s, he was awarded a second Fulbright Scholar grant to teach in Costa Rica, but his grant was later reallocated to Vietnam when the United States strengthened its diplomatic efforts in that country. He ended up receiving the funding necessary to travel to Costa Rica as a result of having created a comprehensive proposal for the Fulbright.
"If it hadn't been for time I'd spent on applying for a Fulbright, I probably wouldn't have gone to Costa Rica at all," Barretto says. "There's a lot of value in the process. Even if you don't win, you can start to think about other ways you can accomplish that goal."
More information, including important dates related to the application timeline, can be found on the DePauw Fulbright Program Web site. Students and recent graduates with questions about applying for a Fulbright award can contact Professors Marnie McInnes and Humberto Barreto directly via e-mail.
Back