Jonathan Burns '01 Joins Baker & Daniels LLP
April 14, 2010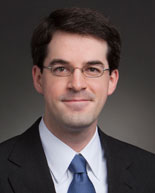 April 14, 2010, Greencastle, Ind. — Jonathan B. Burns, a 2001 graduate of DePauw University, has joined Baker & Daniels LLP as an associate in the law firm's intellectual property practice group. Burns previously practiced at Hunton & Williams LLP in Washington, D.C.
Based in Baker & Daniels' downtown Indianapolis office, Burns focuses on patent law. His experience includes the preparation and prosecution of patent applications in the computer science, chemical, business method and mechanical arts. Burns also has participated in patent infringement litigation in the electrical, business method and computer science.
After receiving his bachelor's degree from DePauw, where he majored in computer science and chemistry, Burns graduated magna cum laude from the Indiana University School of Law-Indianapolis in 2006. He worked as an

information analyst at Eli Lilly and Company in Indianapolis after earning his undergraduate degree.
Read more here.
Back