'Climate Wise Women' Visit Tomorrow
April 14, 2010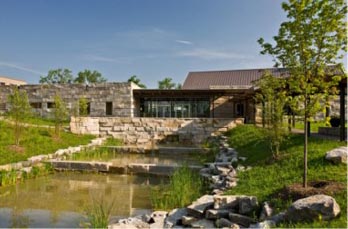 April 14, 2010, Greencastle, Ind. — A national speaking tour billed as "CW2: Climate Wise Women" will come to DePauw University tomorrow night. "The dynamic foursome of Constance Okollet from Uganda, Africa; Ursula Rakova from Carteret Islands, South Pacific; Ulamila Kurai Wragg from the Cook Islands in the Pacific; and Sharon Hanshaw from Biloxi, Miss. is on a 30-city tour that includes Washington, New York and Toronto," reports today's Banner-Graphic.
The program begins at 7 p.m. at the Janet Prindle Institute for Ethics, which is located within the DePauw University Nature Park. Other contributors to tomorrow's session will include Jen Everett, assistant professor of philosophy at DePauw.
"The women will share their experiences and offer an agenda they feel can be acted upon to guarantee a safe, just and sustainable future," writes

Maribeth Ward. "The tour will continue to Asia and the Pacific in Fall 2010 and to Europe in Spring 2011."
You'll find more details at the newspaper's Web site.
Back