Enjoy 'Percussion Music from Five Continents' Tuesday
April 16, 2010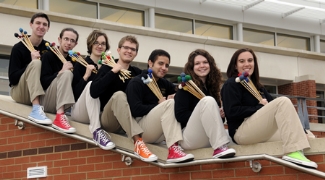 April 16, 2010, Greencastle, Ind. — Take a musical trip around the globe with members of the DePauw Percussion Ensemble next Tuesday, April 20, as they present their spring concert, "Percussion Music from Five Continents." The concert will begin at 7:30 p.m. in Thompson Recital Hall of the Judson and Joyce Green Center for the performing arts. The event is free and open to the public.
The program will feature Raintree by Japanese composer Toru Takemitsu, one of a series of impressionistic pieces on the theme of rain that Takemitsu wrote. The piece will be performed with the special lighting suggested by the composer. John Cage's Second Construction is one of three "constructions" for percussion written by this pioneering American composer, who used the prepared piano along with unusual percussion instruments such as the water gong and various Asian gongs.
Australian composer Nigel Westlake's marimba piece Omphalo Centric Lecture draws on aboriginal rhythm and pitch patterns, while Croatian composer Igor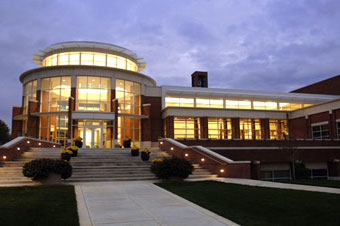 Lesnik's snare drum quartet Chamade Suite uses historic military calls. Also on the program will be traditional Brazilian samba music, with the DePauw Percussion Ensemble assisted by students from the 2010 Brazil Winter Term trip.
"This program combines major classic percussion works by Cage and Takemitsu with more contemporary pieces," says Amy Lynn Barber, professor of music and director of the DePauw Percussion Ensemble. "And the students are always happy to have another opportunity to play samba."
For more information about events, visit the DePauw University School of Music online.
Back