J. Nichols '89 Contributes Chapter to Oceans: The Threats to Our Seas and What You Can Do to Turn the Tide
April 15, 2010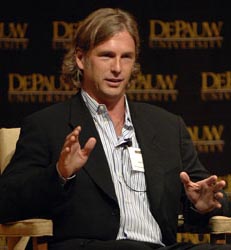 April 15, 2010, Greencastle, Ind. — Wallace J. Nichols, a scientist and conservationist and 1989 graduate of DePauw University, contributes an essay to the new book, Oceans: The Threats to Our Seas and What You Can Do to Turn the Tide. Edited by Jon Bowermaster, the release is tied to the new Walt Disney/National Geographic motion picture, Oceans, and according to the publisher, "explores the health of our oceans, and what we can do to improve it."
Dr. Nichols and Andy Myers authored a chapter on sea turtles, "Adelita: Heart of a Revolution."
A synopsis of the book notes, "More than 75 percent of the globe is covered by the oceans. It is sometimes difficult to understand why it is called Planet Earth rather than Planet Ocean. Since half the world's human population lives within a stone's throw of an ocean coastline, the oceans' health is increasingly important. Rich with resources and potential-as a source of renewable energy, new drugs, drinking water-for years we have treated them as both infinite and undamageable. But they are not. Over-fishing, climate change, pollution, acidification, and more have put the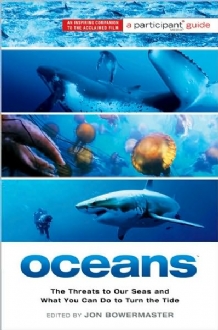 world's oceans and marine life at great risk. Oceans gathers some of the most insightful visionaries, explorers, and ocean lovers- marine biologists, politicians, environmentalists, fishermen, sportsmen, deep divers, and more-in a unique anthology, in which each speaks to a unique aspect of our world's most dimly understood dimension."
Learn more and order the book at Amazon.com and Barnes & Noble.com.
J. Nichols, who goes by his middle initial, is one of "19 of the Greatest Ocean Heroes of All Time," according to the Daily Green. Read more in this recent story.
A research associate at the California Academy of Sciences who is responsible for pioneering research on the migration of sea turtles, Dr. Nichols will return to DePauw next month to deliver the primary address to the Class of 2010 at the University's 171st commencement. The ceremony will take place on Sunday, May 23, at 1 p.m. (EDT) in Holton Memorial Quadrangle. Learn more about the event and Dr. Nichols in this recent story.
Back