Admitted Students Visit This Weekend as Record Admission Season Winds Up
April 16, 2010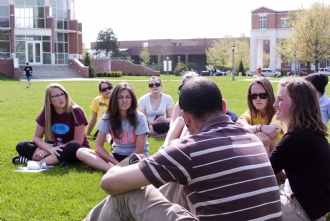 April 16, 2010, Greencastle, Ind. — As a record admission season for DePauw nears its conclusion, the University will welcome almost 400 visitors this weekend for the Spring 2010 Admitted Student Open House. Prospective students and their families are arriving on campus today. The guests will be coming from 22 different states, and one student is traveling from Honduras.
DePauw has received a record 5,314 applications for admission for Fall 2010, an all-time high, and they continue to arrive. Last year, the total number of applications received was 4,723.
"Interest in DePauw continues to increase, as evidenced by the large number of applications we've received and the sizeable group of prospective students who are coming to campus this weekend," says Dan Meyer,
vice president for admission and financial aid. "The next few days will provide young scholars and their families an opportunity to see first-hand what academic and extracurricular student life is like at DePauw, and we're thrilled to be welcoming such a large and academically talented group."
To date, the University has received deposits from 301 students, which is lower by design than the 339 which had arrived at this point last year. The admission office is seeking an incoming class of approximately 655 students; a year ago, a larger than anticipated number of students accepted DePauw's offers of admission, and the target class was exceeded by more than 100.
"We were able to make adjustments to acccomodate last fall's large entering class, which has a high retention rate and is doing very well," says Meyer. "It's exciting that so many students chose DePauw, but we're carefully managing this year's offers of admission to ensure that the final number is more in line with our goal. This falls under the category of 'a nice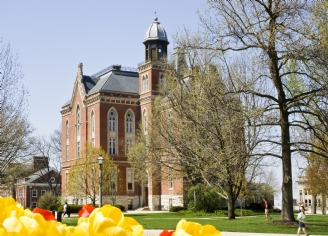 problem to have' and is further evidence that DePauw is increasingly the top choice of many of the nation and the world's brightest students."
For the Open House, DePauw makes available as many staff members as possible, including those who serve students' needs in academic affairs, financial aid, admission, housing, and other departments. Visitors can also meet with members of the University's faculty. A number of informative sessions are provided to visitors, and current students will be available to lead guests on tours of the campus, including student housing options.
Visit DePauw's Office of Admission online by clicking here.
Back