Prof. Istvan Csicsery-Ronay Jr. to Lead Science Fiction Foundation Masterclass
April 20, 2010
April 20, 2010, Greencastle, Ind. — Istvan Csicsery-Ronay Jr., University Professor and professor of English at DePauw University, will be one of three leaders of the Science Fiction Foundation's SF Criticism Masterclass. It will take place at Middlesex University in London, England, June 11 - 13.
"The aim of the masterclass is to provide those who have a serious interest in science fiction criticism with the opportunity to exchange ideas with leading figures in the field, and also to use the Science Fiction Foundation collection," notes the organization.
Learn more here.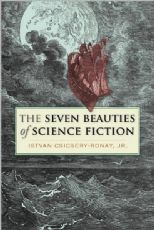 Dr. Csicsery-Ronay Jr. discussed his latest book, The Seven Beauties of Science Fiction, on New York City radio station WBAI last November. Rain Taxi, a Minneapolis-based book review and literary organization, It noted, "DePauw University professor of English Istvan Csicsery-Ronay Jr. is one of the most thoughtful and subtle academic critics of science fiction."
He also co-edited Robot Ghosts and Wired Dreams: Japanese Science Fiction from Origins to Anime.
The professor serves as managing editor of Humanimalia, a refereed and selective online journal, and co-edits Science Fiction Studies, which is published at DePauw.
Back