Senior Showcase & Academic Awards Convocation Set for Monday
April 22, 2010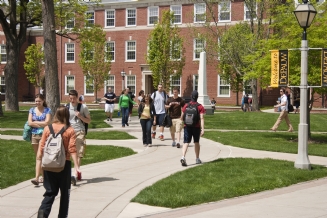 April 22, 2010, Greencastle, Ind. — DePauw University will recognize and celebrate the academic achievement of its student body and the contributions the Class of 2010 has made to the intellectual life of the campus with special events on Monday, April 26.
A Senior Showcase will take place from 4 to 6 p.m. in the Julian Science and Mathematics Center, the Green Center for the Performing Arts, and the Peeler Art Center. At those venues, graduating seniors from departments and programs across campus will present posters, papers, readings, performances, and other intellectual and artistic creations. Each academic department has been asked to invite one to four students to share their exemplary work. Carrie Klaus, associate professor of modern languages (French) and assistant dean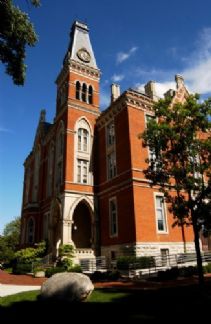 of academic affairs, says the event "is a way to let folks see some of the outstanding work our students do."
A list of the student presentations can be accessed here.
The annual Academic Awards Convocation will begin at 8 p.m. in Kresge Auditorium of the Green Center for the Performing Arts. During the program, students are recognized for achievement in academics and the arts and President Brian W. Casey will announce the recipient of the Walker Cup. Named for 1890 DePauw graduate Guy Morrison Walker, the award recognizes the senior student judged to have contributed the most to the University during his or her four-year college career. The Walker Cup recipient traditionally addresses his or her graduating class.
At 6:30 Monday evening, prior to the Academic Awards Convocation, Carla Edwards, professor of music and University organist, will offer a recital on the J. Stanford Smith Concert Organ in Kresge Auditorium. Professor Edwards will be performing works by such composers as J.S. Bach/Vivaldi, Milos Sokola and Petr Eben.
All three events are free and open to the public.
Back