Relay Raises $152K for Cancer Fight
April 25, 2010
Also: Relay For Life Information/Donations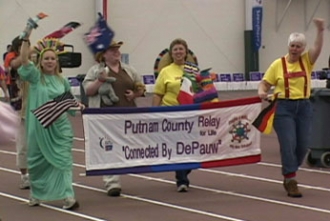 April 25, 2010, Greencastle, Ind. — The efforts of the people of DePauw University and Putnam County have raised approximately $152,000 to battle cancer. That was the total announced as the 2010 Putnam County Relay For Life wrapped up at noon today, 24 hours after it began at DePauw's indoor tennis and track center. The annual event raises funds for the American Cancer Society. Donations are still being counted and collected, so the total is expected to grow.
Based on the wet weekend forecast, organizers decided Thursday to move the event indoors. It was originally scheduled to take place in Blackstock Stadium.
A total of 1,255 participants and 106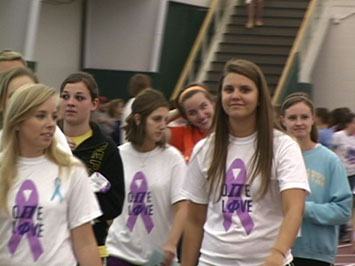 teams pre-registered for the 2010 fundraiser. More than $44,200 had already been raised before the opening lap.
"Families, friends, co-workers, business and community leaders, children, grandparents and neighbors alongside DePauw University students, faculty and staff are here for the very same reason: to put an end to cancer" said Dick Shuck, co-chair of 2010 Putnam County Relay For Life, as the annual event kicked off Saturday afternoon. "The next 24 hours will take us together on a life-affirming journey symbolizing a day in the life of someone fighting cancer," added Shuck, director of business services for the University. "The disease never sleeps, but we will win the battle."
DePauw senior Jon Leyh, a Relay co-chair, told the crowd at the opening ceremonies, "Dick and I are just so excited to see all of these smiling faces here today, all out for the same cause: to celebrate those who have survived cancer, to remember the ones that we've lost to cancer, and to fight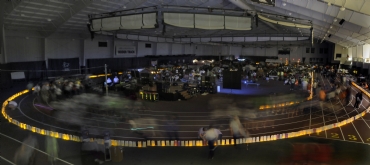 back against cancer by raising a ton of money for the American Cancer Society." (at left: Saturday night's luminaria ceremony)
The DePauw-hosted Relay has won several awards for being among the best of its kind among American colleges and universities. The fundraiser was first held in 1996 and raised nearly $15,000. The total grew to approximately $20,000 by 1998, $30,000 by 1999, and $42,000 in 2000. Then, 2001 brought in $80,000; followed by $127,000 in 2002; more than $162,000 in 2003; 2004's $208,735; and a 2005 total of more than $230,000. The 2006 and 2007 Relays each raised approximately $220,000 for the cancer fight. The recession kept donations to about $160,000 in both 2008 and 2009.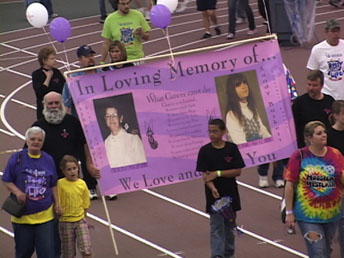 Greencastle Mayor Sue Murray noted, "My first Relay was actually 1996, which was the first year for Relay. We had not even 17 teams representing our community," she recalled, "and our luminarias didn't even go halfway around the football field. We have come a long way."
This story will be updated with final totals at the conclusion of the event.
A video shot and edited by Ken Owen '82, executive director of media relations for DePauw, provides a glimpse at the opening of the event:

[Download Video: "2010 Relay For Life Video" - 6003kb]
Learn more about 2010 Putnam County Relay For Life by clicking here.
Back