Mary Meeker '81 to Speak at Conversational Marketing Summit in June
April 27, 2010
April 26, 2010, Greencastle, Ind. — Mary Meeker, managing director of Morgan Stanley and 1981 graduate of DePauw University, will be among the speakers at the Conversational Marketing Summit, which will take place in New York City on June 7 & 8. Presented by Federated Media Publishing, a next-generation media and publishing company, "Marketing in Real-Time" will bring together "industry-leading brand marketers, advertising agencies, platforms, media companies, service providers and data providers for two days of in-depth discussion around the promise, realities and challenges created by our always-on, always-updated social media environment, otherwise known as the 'real-time Web,'" notes an announcement.
"2009 was the year the Web went real-time," says John Battelle, CEO of Federated Media and host of the summit. "That's a profound shift for the entire media and marketing ecosystem. We want to unpack that and provide some actionable intelligence for everyone involved -- on the marketing side, the media side or otherwise."
The event's other speakers will include Arthur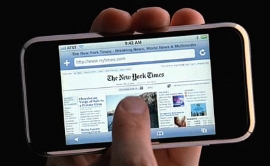 Sulzberger Jr., chairman of the New York Times Company; Mike Murphy, vice president of global sales for Facebook; and Arianna Huffington, co-founder & editor-in-chief of the Huffington Post.
Learn more here.
Mary Meeker's views on the "mobile Internet revolution" were featured in Business Week in December 2009.
Back