Senior Ashley Myers is Again First Runner-Up for Microsoft's Imagine Cup
April 26, 2010
April 26, 2010, Greencastle, Ind. — "Team MangoBunnies," which includes DePauw University senior Ashley Myers, is first runner-up in software design in the eighth annual U.S. Imagine Cup, the world's premier student technology competition sponsored by Microsoft Corp. Myers and Malisa Vongskul, a student at Indiana University-Purdue University Indianapolis, developed a mobile and Web message alert system to inform users of unsafe areas for women.
It's the second consecutive runner-up finish for the MangoBunnies, which last year also included Erin "Ed" Donahue, a 2009 graduate of DePauw. In 2009, they became the first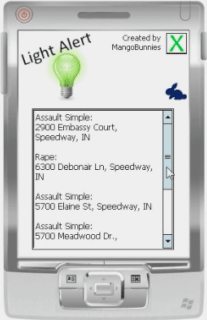 all-female team to advance to the finals of the competition. (top photo: Vongskul, Donahue (who served as a mentor to the team this year), and Myers)
"Team Mobilife" from the University of California - Davis, took home the grand prize for a project which helps field doctors use mobile technology for early detection of some vascular diseases among children in developing regions. The team will travel to Warsaw, Poland, in July to represent the United States in the worldwide finals and showcase their innovation alongside hundreds of other student teams from around the world.
More than 22,000 students registered for this year's U.S. competition; only 80 were selected by a panel of judges to compete in the U.S. finals. The participants were tasked to use technology to make a difference in the lives of people in their local communities and around the world, addressing issues in education, healthcare and environmental sustainability.
Read more at Yahoo! Finance.
Further details are available in this recent story.
Back