Nikki Craker '10 Honored with DePauw's Walker Cup
April 26, 2010
April 26, 2010, Greencastle, Ind. — Nicole C. "Nikki" Craker, a DePauw University senior from Willoughby, Ohio, is the 2010 recipient of the Walker Cup. The award, which is named for 1890 DePauw graduate Guy Morrison Walker, recognizes the senior student judged to have contributed the most to the University during his or her four-year college career. It was presented tonight during DePauw's academic awards convocation, which was held in the Green Center for the Performing Arts' Kresge Auditorium. (top photo: President Brian W. Casey with Nikki Craker)

[Download Video: "Nikki Craker '10 Receives Walker Cup" - 3412kb]
The other finalists for the Walker Cup were seniors Aurora Flores and Kevin "Canada" McLoughlin.
A biology major and Honor Scholar, Nikki Craker is DePauw's student body president. She has served as a mentor to first-year students, and as a member of the Student Life and Academic Atmosphere Committee and on the Campus Planning Committee.
Craker "has worked tirelessly as an advocate for the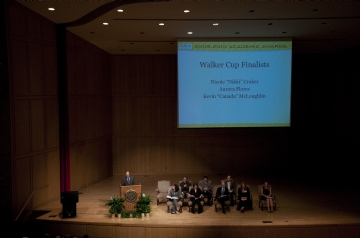 entire student body, seeking to find ways to provide opportunities for students to connect, across from their smaller groups, as members of a larger DePauw community," notes DePauw President Brian W. Casey, who presented the Walker Cup.
"I love DePauw, and truly, as many people out here know, would never leave if I didn't have to," Craker said as she accepted the award.
Per tradition, the Walker Cup recipient will speak at DePauw's commencement, Sunday, May 23.
A link to a complete listing of all of the awards is available here.
Back