19 Students and 3 Alumni Honored with 'Best in Indiana' Journalism Awards
April 27, 2010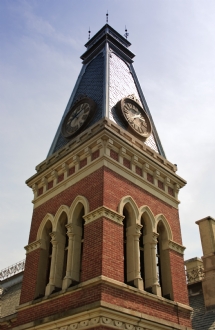 April 27, 2010, Greencastle, Ind. — Nineteen DePauw student journalists and three alumni of the University have been honored with "Best of the Best in Indiana" awards from the Society of Professional Journalists. The awards, which are for work which was published, posted or aired in 2009, were presented Friday night during an annual banquet at the Indianapolis Marriott North.
WGRE's Lewis Brown, Emily Jung, Chris White, Daryl Mowrey and Michael Shropshire took the first place award for "Best Feature" among Indiana college radio stations. Beau Sorg, Leslie Gaber, Amy Barry, Naiquan Greene and Rhonesha Byng also won the top award for "Best Coverage of Government or Politics" in the student division. Another first prize went to Alex Luebbert, Maggie Musgrave, Kate Dobbins and Elizabeth Connor for "Best Public Affairs, Documentary or Series Programming"; second place in that category was awarded to the station's Tyler Archer, Meghan Kazer, Maria Kikvidze, Julie Southworth and David Terry. The WGRE sports team also received a third place honor for "Best Sports Reporting" for its Monon Bell pre-game coverage.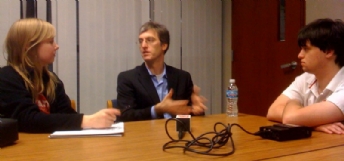 (at right: WGRE student journalists interviewing SuperFreakonomics author Steven D. Levitt at DePauw; November 30, 2009)
Stan Jastrzebski, news director of Bloomington National Public Radio affiliate WFIU and 2003 graduate of DePauw, won four awards. He received a first place citation for "Best Medical/Science Reporting" and took both third place and honorable mention awards for "Best Spot News," as well as a third place honor for "Best Radio Writing."
Sandy (Matthys) Roob, a 1983 graduate of the University, shared first place honors with four colleagues at Indianapolis NPR station WFYI for both "Best Investigative Reporting" and "Best Radio Public Affairs."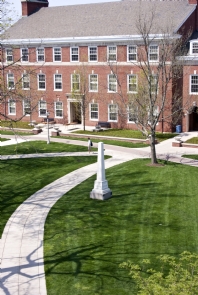 Susan Dinkel, news director and mid-day anchor for WTHI-TV in Terre Haute and 1995 DePauw graduate, received a second place award for "Best Documentary/Special" (outside Indianapolis area).
A complete list of winners can be accessed here.
WGRE staffers picked up seven awards from the Indiana Associated Press Broadcasters Association on April 10. Learn more in this story.
The Society of Professional Journalists, which was founded at DePauw University in 1909 as Sigma Delta Chi, is today the nation's most broad-based journalism organization. SPJ is dedicated to improving and protecting journalism. It is the nation's most broad-based journalism organization, encouraging the free practice of journalism and stimulating high standards of ethical behavior. SPJ promotes the free flow of information vital to a well-informed citizenry; works to inspire and educate the next generation of journalists; and protects First Amendment guarantees of freedom of speech and press.
Back