Donta A. Goodwin '11
April 30, 2010
Junior Donta A. Goodwin's journey to DePauw began as a high school student from Chicago's South Side. His role as an executive officer in the National Honor Society had earned him a nomination for a Posse Foundation scholarship, which sends small groups of students — posses — to partnered universities across the country. After a series of interviews and group activities had pared Chicago's 1,500 nominees down to 70 winners, Goodwin was among them.
During one Posse interview, Goodwin was asked which college he wanted to attend. Six previous Chicago Posse groups had already come to DePauw, but his exposure to the University had come from somebody he'd known before the process had even started.
"Every day at lunch, I sat and talked with a teacher [Sarah Mannon Hanly '92] who had gone to DePauw. She would tell me, 'I could see you at DePauw. You'd fit right in.' So, DePauw was my first choice," Goodwin recalls.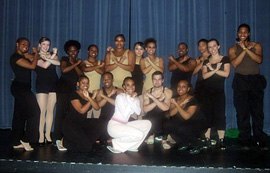 When he first arrived on campus, Goodwin (pictured, far right) already had friends in his Posse group and looked for other ways to be involved on campus. He had been a member of a South Side dance team and decided to join X-Cell, a DePauw step and dance student organization. Named co-president of the group as a sophomore, Goodwin and his teammates have since broadened the group's repertoire.
"We like to say we're a multicultural organization because we do all types of dance," Goodwin says. "A lot of our work ends up being contemporary, but in the past we've done swing and some Latin and Caribbean dance, for example. I think that we have taken the group to a different level by bringing together many different ethnicities and styles of dance."
X-Cell co-sponsored The S-Fix: Tackling the -ISM during ArtsFest 2009, which brought together other campus artists and organizations to respond to issues such as sexism and racism with themes of peace, hope and prosperity.
As a member of DePauw's Bonner Scholar Program, which provides scholarships to service-oriented students, Goodwin has taken his love of dance to schools in the Greencastle area. Goodwin currently serves as choreographer for the competitive hip-hop dance team at Greencastle High School. His Step Into Color dance program at Greencastle Middle School exposed students to different forms of dance as expression, and incorporated other activities that taught teamwork, college access and career exploration.
Academically, Goodwin originally focused on preparing for medical school, but found that his heart wasn't in the work. He sought advice from a number of people on campus, including Associate Professor of Religious Studies Leslie R. James and Quamina D. Carter, a clinical counselor at the DePauw Wellness Center, whose words inspired him to make a change.
"Quamina told me, 'Follow your passion because your passion will feed you,'" Goodwin says.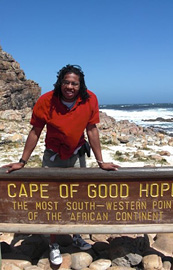 Goodwin's passion was helping young people in need. He decided to change his major to Black studies to focus on issues prevalent in places such as his own Chicago neighborhood.
"I'd always been interested in black history." Goodwin says. "When I came here, I took Introduction to Black Studies and enjoyed the class and the literature. One of my favorite books is The Mis-Education of the Negro by Carter G. Woodson. He wrote the it many years ago, but many of the issues he wrote about still exist today. Woodson thought that educated people need to critically analyze what they've learned to find out how it applies to themselves as individuals, and to their own communities."
After graduation, Goodwin hopes to work for a nonprofit community organization, confident that the work will sustain him.
"I probably won't make as much money as I would have as a doctor, but as long as I have inner joy from helping a young man or woman get into college, or motivating a child who has been told that he or she won't be anything in life, I think I'll be fine," he says.
Back