Tiffany Hodge '02 Named 2010 Newcombe Doctoral Dissertation Fellow
April 30, 2010
April 30, 2010, Greencastle, Ind. — Tiffany Hodge, a 2002 graduate of DePauw University, has been named a 2010 Charlotte W. Newcombe Doctoral Dissertation Fellow. The Newcombe Fellowship will support her completion of a Ph.D. in religion at Emory University during the 2010-11 academic year. Funded by The Charlotte W. Newcombe Foundation, the Newcombe Fellowship is the nation's largest and most prestigious such award for Ph.D. candidates in the humanities and social sciences addressing questions of ethical and religious values.
Hodge is among 20 Newcombe Fellows announced today by the Woodrow Wilson National Fellowship Foundation for the upcoming 2010-11 academic year. All are doctoral candidates in the final year of dissertation work on religious and ethical values. Each Newcombe Fellow receives a 12-month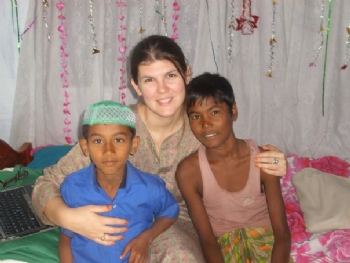 award of $25,000.
This year's Fellows, chosen from a recordbreaking pool of 670 applicants, represent six fields of study, including philosophy, history, religion/theology, anthropology, sociology, and American studies, and come from 18 institutions nationwide. The year's cohort is the 30th group of Fellows named since the program's inception in 1981.
An Indiana native, Hodge received her B.A. in religion and history at DePauw where she was elected to Phi Beta Kappa and graduated summa cum laude. She went on to complete master's coursework at Indiana University. Hodge was awarded a Fulbright U.S. Student Scholarship to travel to Bangladesh during the 2008-09 academic year to conduct research in Islamic studies.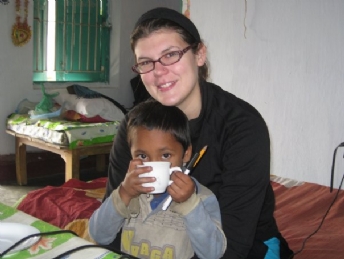 At Emory, her dissertation is entitled "Piety in Practice: Seeking out Religious Authority in Rural Bangladesh." She has also worked with Emory's Center for Ethics and the Atlanta Center for Torture and Trauma Survivors, and has served as a teaching assistant there.
Since its inception, the Newcombe Fellowship has supported more than 1,000 doctoral candidates, many of whom are now noted faculty members at colleges and universities throughout the U.S. and abroad.
Learn more about Tiffany Hodge in this previous story.
Back