Considering a Career Change? DePauw's Steve Langerud Offers Advice
May 4, 2010
May 4, 2010, Greencastle, Ind. — When considering a change in career paths, "Change the question from what do you want to be to where can you do what you do well and care deeply about, advises Steve Langerud, director of career development at DePauw University," notes an article at Faster Times.
"This technique moves people away from what they know, which can be extremely limiting and discouraging," Langerud tells the online newspaper. "Articulate clearly, in functional and behavioral terms, what you want your life to look like, skills you wish to use, issue or topics you are passionate about, people you wish to engage as clients and serve as clients, and the environment that gives you energy."
The story by Sheryl Nance-Nash continues, "Don't get stuck on what you know and miss where you belong. This is the beginning of the actual change process, he adds."
You'll find the complete text here.
Langerud, who came to DePauw last fall from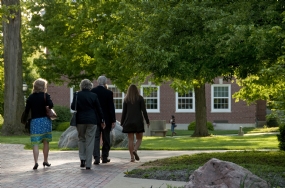 Grinnell College, was quoted last month in this story, as well as a November 2009 piece at CareerBuilder.com and in the October 25, 2009 edition of the New York Times.
You're also invited to visit DePauw's career services Web site.
Back