Three from DePauw Named Woodrow Wilson Indiana Teaching Fellows
May 5, 2010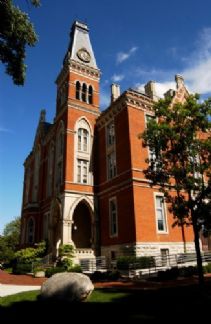 May 5, 2010, Greencastle, Ind. — Two DePauw alumni and a current senior at the University are among the 80 new Woodrow Wilson Indiana Teaching Fellows -- the "Rhodes Scholars" of teaching -- as announced today by the Woodrow Wilson National Fellowship Foundation of Princeton, New Jersey. The honorees are Andrew Bever, a 2008 DePauw graduate; Amanda Hendricks, who received her DePauw degree in 2009; and Kaley Robbins, who is a member of the Class of 2010.
Each Fellow receives a $30,000 stipend to complete a special intensive master's program in teacher preparation at one of the four partner universities (Ball State, Purdue, the University of Indianapolis, and Indiana University-Purdue University at Indianapolis). Fellows then make a commitment to teach for at least three years in a high-need urban or rural school in the state of Indiana that has committed, along with the partner university, to provide ongoing professional support and opportunities for continued study.
Andrew Bever (pictured at right), who majored in physics as an undergraduate and was a Science Research Fellow and president of DePauw's Physics Club, will do his master's degree work in education at Purdue.
Amanda Hendricks, a biology major and a naturalist intern with Indiana Dunes Environmental Learning Center, will enroll at the University of Indianapolis for her master's program.
Kaley Robbins is a mathematics and Spanish double major with a minor in education studies and is the creator and coordinator of DePauw's Special Student Friend program. She will also enroll at UIndy.
The announcement of Fellows comes at the conclusion of a rigorous year-long application and selection process. All finalists were screened by a group of Indiana-based selectors, who observed sample teaching and conducted personal interviews with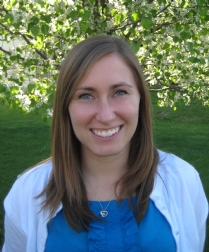 the candidates, as well as reviewing applications and writing samples. (pictured at left: Amanda Hendricks '09)
The new Fellows, who begin their master's work this summer, will be ready to enter their own classrooms in fall 2011.
The Woodrow Wilson Foundation selected Indiana in December 2007 as the first site for its new national fellowship for high school teachers. The program is intended to help overhaul teacher education and encourage exceptionally able teacher candidates to seek long-term careers teaching science, technology, and math (the STEM fields) in high-need classrooms.
"We are proud that this program continues to attract outstanding new teacher candidates to work with Indiana's students," says Arthur Levine, president of the Woodrow Wilson National Fellowship Foundation. "Last year's Fellows are already demonstrating extraordinary skill in the classroom. These new teachers will change thousands of lives -- and the Indiana schools that are working with them are changing the face of teacher preparation."
"Indiana's students are not learning nearly enough math and science to succeed in this world," states Indiana Governor Mitch Daniels. "They need to be taught by people with true mastery of the subject matter, and in the Woodrow Wilson Fellows our kids will have America's most knowledgeable math and science teachers sped to the classrooms that need them most."
Adds Sara Cobb, vice president for education at Lillye Endowment, which supports the program, "Lilly Endowment is pleased that the Woodrow Wilson National Fellowship Foundation selected Indiana as the first site of this promising new approach to encourage talented individuals to become teachers. Early indications are that this program is producing teachers who are enthusiastic and creative -- and who have expertise in their STEM disciplines. Indiana students in high-need urban and rural schools will be the beneficiaries of this knowledge."
DePauw students and alumni are encouraged to apply for next year's Woodrow Wilson Teaching Fellowships in Indiana, Ohio, and Michigan. Get more information by clicking here.
Back