Junior History Major Invited to NYC as Gilder Lehrman One-Week Scholar
May 7, 2010
May 7, 2010, Greencastle, Ind. — Tyler A. Archer, a DePauw University junior, is one of thirty students from across the United States who have been selected as Gilder Lehrman One-Week Scholars. Presented by the Gilder Lehrman Institute of American History in New York City, the weeklong program fosters an interest in American history through field trips, discussions with professionals about careers for history majors, and lectures by leading scholars.
"We received more than 220 applications representing 150 different institutions across the country, making the selection terribly difficult," James G. Basker, president of the Gilder Lehrman Institute, wrote in the letter inviting Archer to participate in the program. "Your ranking among this year's thirty One-Week Scholars is a reflection of your high standing in a very talented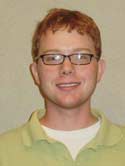 cohort of undergraduate historians nationwide."
This year's program, "The Coming of the Civil War," will include lectures by eminent historians such as James McPherson, Stephanie McCurry and Eric Foner. The One-Week Scholars will also view archival treasures at places like the New York Historical Society and New York Public Library, and will take field trips to sites around New York City which relate to the Civil War.
Learn more by clicking here.
A history major at DePauw, Tyler Archer was curator of a Putnam County Museum exhibit on the Civil War which debuted in February and was featured in the Banner-Graphic of Greencastle. The station manager of WGRE, Archer recently received awards from the Associated Press and the Society of Professional Journalists.
Back