Senior is Greencastle's 'Green Citizen of the Year'
May 7, 2010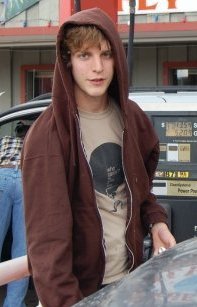 May 7, 2010, Greencastle, Ind. — Tim Martin, a senior at DePauw University, is Greencastle's "Green Citizen of the Year". Martin was honored last night at the inaugural Sustainable Greencastle Celebration where the 2010 Sustainable Greencastle Awards were presented.
Greencastle Mayor Sue Murray told those gathered at City Hall, "Tim is a DePauw senior who has worked diligently researching, experimenting and helping us create the Greencastle Community Garden. He initially engaged out of a genuine interest in the potential of community gardens and did end up making work on this project his Bonner Scholar placement for his senior year. Without Tim's efforts, I'm not sure we would have been ready to rent plots this season." (photo: Martin, fourth from left, with other honorees)
The mayor added, "He's indeed a wonderful example of the kind of power we have seen over the last year: accomplishing much through the cooperative efforts of many."
The DePauw Environmental Club and Joanne Haymaker, associate director of financial aid at the University, were also recognized at last night's event.
A summary is published in today's edition of the Banner-Graphic.
Developed on a city-owned plot of land at the intersection of Franklin and Spring streets, the community garden brings people from the DePauw and Greencastle communities together. Learn more about Tim Martin and the project in this previous article.
Back