A Growing Community
May 7, 2010
In early 2009, Greencastle City Planner Shannon Norman was looking for someone to help spearhead the creation of a community garden, an idea that had gained steam as the country's recession was deepening.
Then-junior Timothy J. Martin '10, a Bonner Scholar and religious studies major, had already played a key role in introducing local produce to DePauw's campus menus. As an accomplished community organizer with experience in local foods, he was a perfect candidate for the project.
Martin lacked gardening experience, but the Greencastle community would more than compensate. Once on board, he and a team of master gardeners and volunteers from the town and University began work on the garden immediately.
Appropriately, building the community garden took a community effort. The city set aside land for the garden near the intersection of Franklin and Spring streets, next to A-Way Home Shelter, but early assessments by the gardeners found that much of the soil was too rocky for use. They decided to build raised beds filled with composted materials as a workaround.
"We decided we were going to build these raised beds, but we didn't know how we would get the materials we'd need. Everything just fell into place," Martin says.
When the gardeners looked for bricks for the foundation of the raised beds, DePauw's Physical Plant had some to spare, and compost, too. DePauw's Hartman House donated building tools. A week after they began their search for mulched leaves, Norman arranged for Greencastle City Services to deliver a pile of them to the site.
"When there was a need, there was always somebody willing to provide," Martin says.
On Saturday, May 1, after a year of preparation, the Greencastle Community Garden officially opened to the public. Already, tiny bits of green have sprouted from the raised beds, and from large, soil-filled tractor tires—donated, like most of the materials.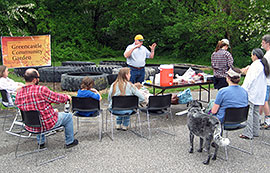 Vegetables and flowers combine in the plots, each laid out according to interests of the gardeners tending them. The rules for the garden are simple: keep things sustainable, reuse water collected from rain barrels, avoid petrochemicals—the rest is up to the individual.
"It is really about giving people who don't have garden space where they live a chance to garden, and about novice gardeners being able to learn from more experienced gardeners," says Bruce R. Sanders, coordinator of cataloging and processing at Roy O. West Library, who takes over as garden director this summer after Martin has graduated.
"It's also a very small step in community building," Sanders adds. "It's planting a seed in that regard, so to speak."
Karen A. Martoglio, a help desk analyst at DePauw, says the garden's potential as an outdoors classroom extends to people of all ages.
"I envision the garden's future as an educational outlet," Martoglio says. "I'd really like children, especially very young ones, to have the opportunity to see how plants grow."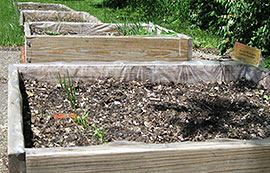 Martoglio shares an educational plot at the garden, labeled so that other gardeners and visitors can see what is being grown and how. Produce from the educational plot will be donated to Local Food for Neighbors in Need, a food charity in Greencastle.
Similar gardens have begun to pop up around Greencastle, both in response to a sluggish economy and in the wake of interest created by the Community Garden project. The more, the better, Martin believes.
"Ours is the first of many community gardens," says Martin, who recently received Greencastle's Green Citizen of the Year award for his work with the community garden. "Politically and economically, interest is very high. It makes sense for Greencastle's future because the communities that are the most resilient to national and global change are the ones that produce their own food."
Individual plots at the Greencastle Community Garden are still available to rent through November for a small fee. Visit Greencastle City Hall for plot applications. Further information about the garden can be found on its Web site.
Back