Mediaweek Story on Cable's History Channel Quotes Prof. Jeff McCall '76
May 9, 2010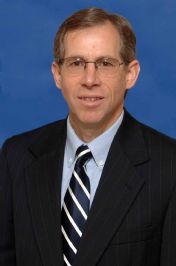 May 9, 2010, Greencastle, Ind. — "Nancy Dubuc isn't afraid to stick her neck out," begins a Mediaweek article on the president and general manager of cable television's History Network, which quotes a DePauw University professor. Terry Stanley writes that Dubuc "did, after all, launch unconventional tough-guy series like Ice Road Truckers and Ax Men on History, a network that was once best known for grainy World War II footage and talking-head documentaries ... In just three years at the helm, she's catapulted it into the top 10 among all ad-supported cable networks -- it's now at No. 4 -- and in the first quarter landed it at No. 7 in the advertiser-coveted adults 18-49 demographic."
The article later notes, "Ice Road Truckers and others, like Pawn Stars companion American Pickers, also have been points of contention for purists. Jeffrey McCall, media professor at DePauw University in Indiana, wonders if these series are off-message."
Dr. McCall tells the publication, "The current management certainly pulled History out of the doldrums and got attention for the channel, but is it history anymore? For any cable network, it seems to be all about getting eyeballs however they can. Still, you can't argue with the short-term success at History."
The complete text can be found at Mediaweek's Web site.
A 1976 graduate of DePauw, Jeff McCall is one of the nation's most called upon analysts of media matters and has been cited in articles published by approximately 100 newspapers. The professor of communication authored the book Viewer Discretion Advised: Taking Control of Mass Media Influences. He was quoted in an April 29 Los Angeles Times story on the ratings decline experienced by American Idol, and the professor recently weighed in on television's Marriage Ref in an Indianapolis Star op-ed.
Source: Mediaweek
Back