National List of Commencement Speakers Includes DePauw's J. Nichols '89
May 12, 2010
Also: Pre-Order the 2010 Commencement DVD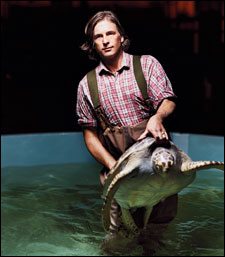 May 12, 2010, Greencastle, Ind. — "Wallace J. Nichols, a scientist responsible for pioneering research on the migration of sea turtles and 1989 graduate of DePauw, will deliver the primary address to the Class of 2010 at the university's 171st commencement," notes a listing of commencement speakers at colleges across America. It adds, "Dr. Nichols also will be presented with an honorary Doctor of Science degree at the event." (photo by Bobby Fisher)
You'll find the list at StreetInsider.com.
The ceremony will take place on Sunday, May 23, in the Holton Memorial Quadrangle (in the event of rain, the proceedings will be moved indoors to the Lilly Center). Learn more about J. Nichols (he goes by his middle initial) in this previous story.
For a ninth consecutive year, DePauw will produce a DVD of its commencement ceremonies, which will include footage of each graduate receiving their DePauw diploma as well as a range of bonus materials -- including clips of Ubben Lecturers such as Tony Blair and F.W. de Klerk; "Monon Memories" of the last four battles
for the Monon Bell; footage of the women's basketball team capturing the national championship; and vintage film from the DePauw Archives. Orders are now being accepted at $19.95 for the first disc; additional DVDs sent to the same address will be $8 each (7% sales tax will be added to Indiana orders). An online order form is available here; you can learn more about the disc in this article.
For more information on DePauw's commencement, click here.
Back