Chicago Cubs Honor Butler Coach Brad Stevens '99
May 10, 2010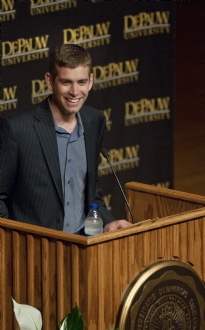 May 10, 2010, Greencastle, Ind. — "Butler basketball coach Brad Stevens threw a perfect strike as part of ceremonies before the Chicago Cubs game Monday night," reports Indianapolis NBC affiliate WTHR. Stevens, the 1999 DePauw University graduate who led Butler to the NCAA men's basketball championship game last month, threw out the ceremonial first pitch and led the crowd in singing Take Me Out to the Ballgame during the seventh inning stretch of the Cubs-Marlins game at Wrigley Field.
"It was fun, because we had a bunch of Butler people in the bleachers and I looked up there and I saw them stand up and it's fun to have people here," Stevens told the television station. "I have friends in Chicago, so it's
great to be around them. We don't get a chance to do stuff like this very often, so it's great."
Read more and access video clips at WTHR.com and WXIN's site.
Meanwhile, the Indianapolis Star reports that Stevens "will be one of the court coaches during training camp for under-18 national team, USA Basketball officials announced this afternoon."
Stevens, who was an economics major and Management Fellow at DePauw, returned to his alma mater on April 13 to deliver the Robert C. McDermond Lecture.
Back