Prof. Elizabeth Turnell to be Inducted Into Indiana Broadcast Hall of Fame
May 11, 2010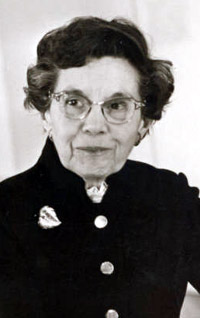 May 11, 2010, Greencastle, Ind. — Elizabeth J. Turnell, who taught broadcasting at DePauw University for more than a quarter-century and co-founded student radio station WGRE, will be honored posthumously with induction into the Indiana Broadcasters Association's Richard M. Fairbanks Indiana Broadcast Pioneers Hall of Fame. Professor Turnell will be one of eight new members inducted at a banquet and ceremony on Thursday, October 14, at the Indianapolis Marriott North, Keystone at the Crossing.
Other 2010 inductees include Don Fischer, the play-by-play radio voice of Indiana University athletics for 37 years, and veteran broadcaster Howdy Bell. The Hall of Fame was established in 1981 to recognize individuals who have been directly or indirectly associated with broadcasting in the state of Indiana, and who have made a significant contribution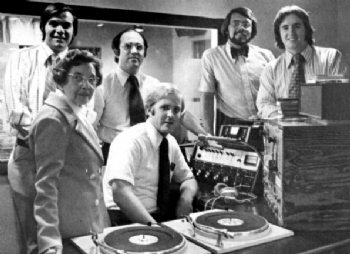 to the industry. (at right: Professor Turnell visiting WGRE in 1973)
Turnell, who passed away in 1993, was nominated for the award by Tyler Archer, a current DePauw junior who serves as station manager of WGRE, and Jinsie Scott Bingham, a member of the University's Class of 1956 and a member of the Indiana Broadcast Pioneers Hall of Fame.
Betty Turnell came to DePauw in 1944. Five years later, she and Professor Herold Ross started WGRE, the nation's first 10-watt college FM station. Until her retirement in 1971, Turnell was the broadcasting matriarch at the university, turning out students who went on to successful careers in the broadcast, advertising and theater industries, and establishing a pattern for volunteer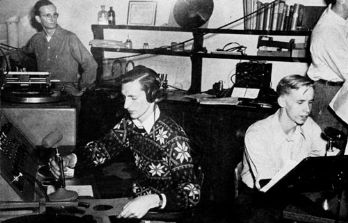 student involvement in a full-service community radio station that continues today. (at left: WGRE in 1949)
Access a roster of Hall of Fame inductees here.
On May 7, 1999, Turnell was added to the Media Wall of Fame at DePauw's Pulliam Center for Contemporary Media.
Learn more about the early days of WGRE in this article.
Back