Fourth-ranked Tigers in Seventh Place after First NCAA Round
May 11, 2010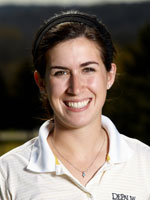 May 11, 2010, Howey-in-the-Hills, Fla. — The fourth-ranked Tigers shot an opening-round 344 and are in seventh-place after the first of four rounds of the NCAA Division III Women's Golf Championships.
Top-ranked Methodist leads with a 317 at the Mission Inn Golf and Tennis Resort. DePauw trails Allegheny by one stroke and Olivet by five.
Erin Kielty (pictured) leads the Tigers with an 80 which is good for a tie for 13th, while Taylor Beaty is tied for 39th with an 87 and Natalie Gough is tied for 43rd with an 88. Camila Romero is tied for 50th with an 89 followed by Kelly Gaughan is tied for 59th with a 90.
Methodist's Paige Caldwell and St. Mary's (Ind.) Natalie Matuszak share the individual lead at 76.
The Tigers are making their ninth consecutive appearance at the Championships which is topped only by Methodist's 11 and Wisconsin-Eau Claire's 10. DePauw finished in a tie for 11th last year and in the top four seven times.
The tournament continues through Friday.
Follow DePauw Athletics on Twitter | Become a Fan of DePauw Athletics on Facebook
2010 NCAA Division III Championships
2010 NCAA Division III Championships
Mission Inn & Resort
Howey-in-the-Hills, Fla.
Dates: 5/11-14/2010
1st Round Scores
Par 73, 5901 yards  (26 teams, 105 players)

Methodist University.......... 317   +25      1st
Paige Caldwell................  76    +3   t- 1st
Susan Martin..................  78    +5   t- 4th
Alana Swain...................  79    +6   t- 7th
Gretchen McLean...............  84   +11   t-27th
Kelsey Magnine................  91   +18   t-71st

Gustavus Adolphus College..... 331   +39   t- 2nd
Katie Schenfeld...............  78    +5   t- 4th
Taylor Drenttel...............  82    +9   t-18th
Annie Jackson.................  82    +9   t-18th
Amanda Woodhull...............  89   +16   t-50th
Kali Griggs...................  90   +17   t-59th

Wis.-Eau Claire............... 331   +39   t- 2nd
Torie Ives....................  79    +6   t- 7th
Katie Maurer..................  81    +8   t-15th
Lauren Gault..................  85   +12   t-29th
Catherine Wagner..............  86   +13   t-33rd
Emily Swift...................  87   +14   t-39th

St. Mary's (Ind.) College..... 336   +44      4th
Natalie Matuszak..............  76    +3   t- 1st
Mary Kate Boyce...............  79    +6   t- 7th
Christine Brown...............  90   +17   t-59th
Perri Hamma...................  91   +18   t-71st
Rosie O'Connor................  95   +22   t-93rd

Olivet College................ 338   +46      5th
Lauren Campbell...............  79    +6   t- 7th
Amber Conrad..................  85   +12   t-29th
Abby Wheeler..................  85   +12   t-29th
Megan Rimmel..................  89   +16   t-50th

Allegheny College............. 343   +51      6th
Lizzie Blyth..................  79    +6   t- 7th
Laura Hilger..................  86   +13   t-33rd
Lauren Hammell................  87   +14   t-39th
Julia Wears...................  91   +18   t-71st
Hannah Schonau-Tayl...........  97   +24   t-101st

DePauw University............. 344   +52      7th
Erin Kielty...................  80    +7   t-13th
Taylor Beaty..................  87   +14   t-39th
Natalie Gough.................  88   +15   t-43rd
Camila Romero.................  89   +16   t-50th
Kelly Gaughan.................  90   +17   t-59th

Wartburg College.............. 346   +54      8th
Jordan Galles.................  78    +5   t- 4th
Ellen Rickert.................  86   +13   t-33rd
Kelsi Sawatzky................  87   +14   t-39th
Rebecca Lewis.................  95   +22   t-93rd
Daina Deery...................  98   +25     104th

Centre College................ 347   +55      9th
Emily Bachert.................  83   +10   t-23rd
Katie McKenna.................  83   +10   t-23rd
Marissa Cianchetti............  90   +17   t-59th
Paige Burton..................  91   +18   t-71st
Whitney Miller................  93   +20   t-82nd

Schreiner University.......... 348   +56     10th
Sarah Stillwell...............  81    +8   t-15th
Surraya Minhas................  88   +15   t-43rd
Gabby Rosales.................  89   +16   t-50th
Liz Calderon..................  90   +17   t-59th
Katlynd Imbody................  95   +22   t-93rd

George Fox University......... 349   +57     11th
Mandy Cameron.................  83   +10   t-23rd
Kelsey Morrison...............  86   +13   t-33rd
Sarah Askin...................  89   +16   t-50th
Jill Westendorf...............  91   +18   t-71st
Brianna Nap...................  92   +19   t-78th

Washington-St. Louis.......... 352   +60     12th
Hannah Buck...................  80    +7   t-13th
Kristina Zeschin..............  88   +15   t-43rd
Katie Homa....................  90   +17   t-59th
Kathleen Pettinato............  94   +21   t-88th
Melanie Walsh.................  94   +21   t-88th

Illinois Wesleyan University.. 353   +61   t-13th
Alessandra Bollero............  84   +11   t-27th
Lindsey Haines................  89   +16   t-50th
Erin Bradley..................  90   +17   t-59th
Sarah Lejman..................  90   +17   t-59th
Erica Woodall.................  93   +20   t-82nd

Williams College.............. 353   +61   t-13th
Anne O'Leary..................  82    +9   t-18th
Mary Gelber...................  88   +15   t-43rd
Becky Miller..................  89   +16   t-50th
Victoria Student..............  94   +21   t-88th
Kait O'Brien..................  95   +22   t-93rd

Southwestern University....... 354   +62     15th
Kelsey Coburn.................  86   +13   t-33rd
Kristen Davenport.............  86   +13   t-33rd
Stephanie Scholer.............  90   +17   t-59th
Cody Wallace..................  92   +19   t-78th
Erin Perry....................  94   +21   t-88th

Otterbein College............. 355   +63     16th
Kelly Butler..................  88   +15   t-43rd
Heidi Mitchell................  88   +15   t-43rd
Elizabeth DeRoy...............  89   +16   t-50th
Kelsey Tosca..................  90   +17   t-59th
Catherine Brunoehler..........  92   +19   t-78th

Franklin College.............. 360   +68     17th
Brittany Brownrigg............  85   +12   t-29th
Grace Adams...................  89   +16   t-50th
Brittany Stephens.............  91   +18   t-71st
Natalie Daugherty.............  95   +22   t-93rd
Sam Marshall..................  97   +24   t-101st

St. Lawrence University....... 364   +72     18th
Kristin Berretta..............  82    +9   t-18th
Aime Caligore.................  93   +20   t-82nd
Alair Muzzatti................  94   +21   t-88th
Caitlin Cunningham............  95   +22   t-93rd
Meliss Snizek.................  95   +22   t-93rd

Whitworth University.......... 366   +74     19th
Krystal Pitkonen..............  90   +17   t-59th
Emily Travis..................  91   +18   t-71st
Mariesa Stombaugh.............  92   +19   t-78th
Emily Guthrie.................  93   +20   t-82nd
Liz Martin....................  93   +20   t-82nd

Carroll University (Wis.)..... 373   +81     20th
Brittany Puta.................  88   +15   t-43rd
Angelina Parrinello...........  93   +20   t-82nd
Abbie Sidders.................  95   +22   t-93rd
Traci Vanderloop..............  97   +24   t-101st
Erin Sullivan................. 102   +29     105th

LeTourneau University......... dnc 
Leslie Lee#...................  77    +4      3rd

Middlebury College............ dnc 
Flora Weeks#..................  83   +10   t-23rd

Rhodes College................ dnc 
Stephanie Mingos#.............  79    +6   t- 7th

St. Benedict, College of...... dnc 
Kathryn Hauff#................  90   +17   t-59th

Wellesley College............. dnc 
Kimberly Eaton#...............  82    +9   t-18th

Wis.-Stevens Point............ dnc 
Jessica Urban#................  81    +8   t-15th

# Indicates individual player


Back