J. Nichols '89 Collecting 'Ocean Voices' for June 3 California Event
May 15, 2010
May 15, 2010, Greencastle, Ind. — A June 3 tribute to the late underwater explorer Jacques Cousteau at the California Academy of Sciences museum in San Francisco, "Ocean Voices," will debut a "collaboration between musician Halsey Burgund and Davenport marine biologist and Academy scientist Wallace J. Nichols. The two encouraged children and adults around the world to record their voices -- whether online, through an iPhone application or at the Academy of Sciences museum -- by describing what the ocean means to them. Nearly 900 people have registered their thoughts so far," reports the Santa Cruz Sentinel.
Dr. Nichols is a 1989 graduate of DePauw University. The newspaper's Genevieve Bookwalter writes that through "Ocean Voices," the creators "hope to inspire children to leave their messages describing the feel of the ocean, or answering other aquatic questions."
Read more here.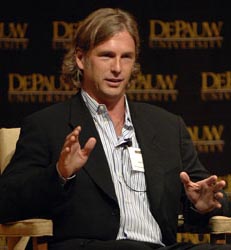 J. Nichols, who is known by his middle initial, is a research associate at the California Academy of Sciences and is the chief force behind The Ocean Revolution, a program that inspires, involves and mentors the next generation of ocean conservation leaders. He will provide the principal address at DePauw's 171st commencement ceremony next Sunday, May 23.
Nichols' work has been featured in National Geographic, Scientific American, TIME and Newsweek, and was seen in Leonardo DiCaprio's documentary, The 11th Hour. Nichols was one of nine "eco-all-stars" cited in the March 2008 issue of Outside magazine.
Back