DePauw Advances to NCAA Softball Finals after 5-4 Win in Regional Title Tilt
May 17, 2010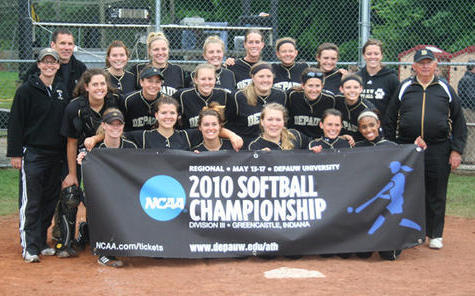 May 17, 2010, Greencastle, Ind. — Brianne Weeks' double in the bottom of the sixth scored Cymone Allen with the go-ahead run and Megan Soultz struck out the final two batters in the seventh as DePauw took a 5-4 win over Ohio Northern in the Greencastle, Indiana Regional championship game in the NCAA Division III Softball Championship.
With the win, DePauw improved to 39-7 and advances to the NCAA finals for the second time in four years. The Tigers open play on Friday, May 21, when they take on Ithaca College at 11 a.m. CDT in Eau Claire, Wis. The Polar Bears finished their season at 41-7.
Steady rains delayed the start of the game by six hours, but Ohio Northern jumped out to a 1-0 lead in the first as Mandi Fought led off with a walk and stole second. Jackie Mangola followed with an infield single. When Kimi Blewett reached on an outfield error, Mangola was thrown out on the play and Fought advanced to third. Katie Cretin then delivered a two-out double to left scoring Fought.
The Tigers countered in the second as Amy Hallett led off with a walk and advanced to third when Ashlee Anton reached on a sacrifice bunt and moved to second on a throwing error. Haley Buchanan lifted a foul fly to right which scored Hallett. Allen followed with a single and Rachel MacBeth drove home Anton with a base hit. Weeks reached on an infield single and Allen scored when Jen Kosinski reached on a fielder's choice to put DePauw ahead, 3-1.
The lead was short-lived as Jackie Mangola singled in the third and Blewett followed with a homer to left center to tie the score. DePauw regained the lead in the bottom of the third as Holly Paris was hit by a pitch and moved to second on Hallett's sacrifice bunt. Paris moved to third on a wild pitch and scored on Anton's sacrifice fly.
The Polar Bears knotted the score in the fifth when Cortney Cash led off with a single and advanced to second on an outfield error. Fought's sacrifice bunt moved Cash to third and she scored when Tina Mangola reached on a two-out error.
Allen led off the DePauw sixth with a single to right and moved to second on MacBeth's sacrifice bunt. Weeks then hit the first pitch to center scoring Allen with the game-winning run.
Cash singled with one out in the seventh, but Soultz struck out Fought and Jackie Mangola to end the game.
Weeks paced the Tigers with three of their eight hits, while Allen added two. Jackie Mangola and Cash each had two of Ohio Northern's seven hits.
Soultz improved to 28-5 on the season, while Cash dropped to 23-4.
The all-tournament team will be available here.
Back