DePauw Overcomes Early Deficit for 6-3 NCAA Softball Win over Ithaca
May 21, 2010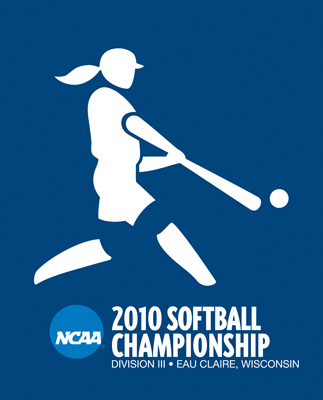 May 21, 2010, Eau Claire, Wis. — After going hitless over the first five innings, 10th-ranked DePauw collected all five of its hits in the sixth inning as it scored four runs in the inning on the way to a 6-3 win over 24th-ranked Ithaca in the opening game of the NCAA Division III Softball Championship at Gelein Field.
DePauw improved to 40-7 on the season and takes on eighth-ranked Linfield which defeated fourth-ranked Luther, 4-3. The 40 wins matches the Tigers' school record set in 2008. Ithaca dropped to 34-14 and faces Luther tomorrow at 11 a.m.
The Bombers scored all three of their runs in the firsts as Kait Dolan led off with a walk and moved to second when Brittany Lillie reached on a walk. DePauw catcher Amy Hallett picked off Dolan at second, but Kerry Barger also drew a walk. Molly O'Donnell followed with a double down the right field which scored Lillie. Jennifer Biondi then reached on an error which allowed by Barger and O'Donnell to score. Biondi was thrown out trying to advance to second.
The Tigers reached the board in the fourth as Jen Kosinski led off with a walk, moved to second on Emma Minx's sacrifice bunt and to third when Holly Paris reached on an infield error. Hallett then grounded out to third allowing Kosinski to score.
Haley Buchanan led off the fifth by reaching on a walk and pinch-runner Sam Szyska moved to second on Cymone Allen's sacrifice bunt. Rachel MacBeth then reached on an error and Brianne Weeks loaded the bases after reaching on a fielder's choice.
Lillie replaced Alyssa Brook in the circle and Kosinski reached on an fielder's choice after the Ithaca catcher couldn't hold on for the force play at the plate which allowed Szyska to score and cut the Ithaca lead to 3-2. Minx hit into a fielder's choice with MacBeth out at the plate and Paris grounded out to end the DePauw threat.
Hallett led off the sixth with a single to right and moved to second on Ashlee Anton's sacrifice bunt. Buchanan's single up the middle scored Hallett and tied the score before Allen followed with a single through the right side. MacBeth then tripled to right scoring Allen and Kosinski plated MacBeth with an infield hit.
Five different Tigers had one hit apiece, while O'Donnell had two of Ithaca's three hits. Megan Soultz improved to 29-5 while retiring the last 12 batters she faced and 18 of the last 20. Lillie dropped to 6-4 with the loss.
NOTES: With the win, Megan Soultz moved into a tie for first in Division III this year with 29 wins. She led the nation with 36 wins in 2008. Soultz, who holds the Division III career record with 146 games started in the circle, moved into a tie for third in Division III history with 113 career wins with Simpson's Kim Schade (1996-99) who threw out the first pitch of the tournament today and spoke at last night's banquet. Soultz also is second with 149 games pitched ad 886 innings, third with 114 complete games and fourth with 48 shutouts. The Tigers improved to 5-3 against ranked teams in 2010. The win was DePauw's third when trailing after five.
Follow DePauw Athletics on Twitter | Become a Fan of DePauw Athletics on Facebook
Back