Tim Solso '69 Joins President Obama for White House Energy Announcement
May 23, 2010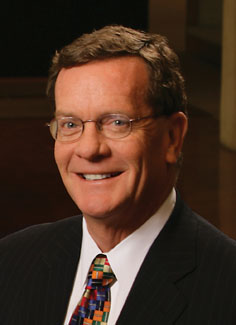 May 23, 2010, Greencastle, Ind. —"While Cummins Inc. chairman and chief executive officer Tim Solso stood behind him, President Barack Obama signed a memorandum Friday to direct the government to set the first-ever mileage and pollution limits for big trucks," begins a story in Indiana's Columbus Republic. "Obama also directed the government to tighten rules for future cars and SUVs, setting the nation's sights on vehicles that run on half the fuel they now use and give off half the pollution."
Solso, a 1969 graduate of DePauw University, can be seen wearing sunglasses behind President Obama in the photo below right. During the Rose Garden ceremony, Obama noted that Solso and the other executives present "have been integral in making today possible."
The president remarked, "Around the globe, countries are seeking an advantage in the global marketplace by investing in new ways of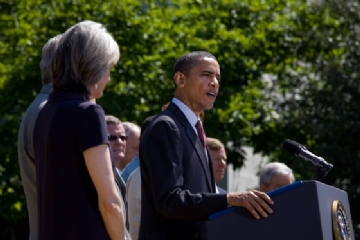 producing and saving energy. From China to Germany, these countries recognize that the nation that leads in the clean energy economy will lead the global economy. And I want America to be that nation."
A summary of the article can be found at the Republic's Web site.
Barron's magazine recently listed Theodore M. "Tim" Solso, a former member of DePauw's Board of Trustees, as one of America's "30 Most Respected CEOs."
Back