Softball Team Comes Up Short in NCAA Championship vs. Linfield
May 22, 2010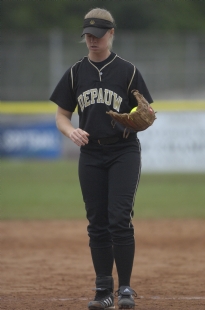 May 22, 2010, Eau Claire, Wis. — One of Division III softball's most potent offenses, Linfield College, was limited to just six singles this afternoon by DePauw University and pitcher Megan Soultz, but they led to two runs, which was enough as Linfield (41-5) defeated the Tigers (40-8) in the NCAA Championships. With the setback, DePauw falls into the loser's bracket where they'll face Eastern Connecticut State at 1 p.m. (Greencastle time) tomorrow.
The tournament is being played at Gelein Field in Eau Claire, Wisconsin.
For a detailed summary of today's contest and links to the NCAA Division III Softball Championship site, visit the team's official online page.
Back