'SlamMaster' Erin Livingston '04 Featured in Indianapolis Star
May 23, 2010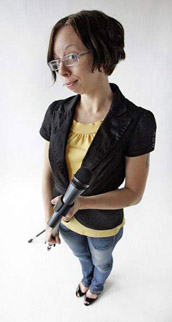 May 23, 2010, Greencastle, Ind. — "Erin Livingston could be described as shy and soft-spoken, though you wouldn't see either of those characteristics from her during a poetry slam," begins a feature on the 2004 DePauw University graduate published in today's Indianapolis Star. "The 28-year-old poet left an established spoken-word scene in Austin, Texas, in 2008 -- where she was well-known for her big voice and poignant poems -- and moved to Indy, where she began her own slam," the Indianapolis Poetry Slam, writes Amy Bartner. (photo: Frank Espich/Indianapolis Star)
The question-and-answer piece notes, "We recently caught up with Livingston, a Cincinnati native who studied anthropology at DePauw University, to learn a little bit more about what she does."
Livingston serves as a SlamMaster, which is, in her words, "the host, the referee, the organizer of the poetry slam -- the master of ceremonies, as it were."
She adds, "A slam poem has traditionally become known as a 3-minute poem intended for performance. At its best, slam poetry takes into account the experience of the listening audience and is therefore often memorized, highly animated, emotionally charged and/or expertly delivered.Over time, slam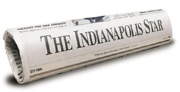 poetry has come to draw from all the spoken performance arts -- from storytelling to rap, comedy to dramatic monologue."
Livingston tells the newspaper, "Five years from now, I see slam poetry as a vital part of the Indianapolis poetry scene. I see Indianapolis Poetry Slam as one of the main vehicles for bringing in unique national talent and for sending local people out to performance and workshop opportunities they would not otherwise have without the slam network."
Read more at IndyStar.com.
Back