DePauw Finishes Season at 40-9 after NCAA Loss to Eastern Connecticut State
May 23, 2010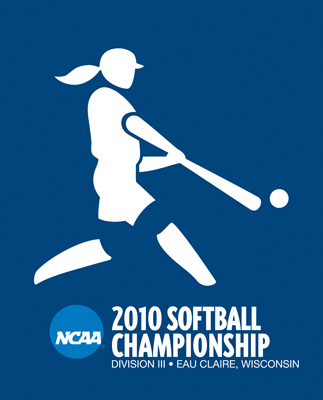 May 23, 2010, Eau Claire, Wis. — DePauw's run at the NCAA Division III Softball Championship came to an end this afternoon as the Tigers dropped an 8-1 decision to Eastern Connecticut State in an elimination game at Gelein Field. The Tigers finished the season at 40-9, while the Warriors improved to 38-5-1 and play later today.
The Warriors scored two in the first as Ashley Sullivan walked and moved to second on Priscilla Alicea's sacrifice bunt. Molly Rathbun doubled to left center scoring Sullivan and later scored on Katie O'Toole's base hit.

Eastern Connecticut made it 4-0 in the second as Kassondra Silva walked and reached second when the attempt to put her out on Kelly Paterson's bunt failed. Sullivan and Alicea delivered back-to-back run scoring singles.

DePauw closed the gap to 4-1 when Holly Paris hit a solo homer to left in the fourth, but Sullivan countered with a homer in the bottom of the fourth.

Rosie Manzo drove in Kim Church in the fifth with a single before The Warriors closed out the scoring in the sixth on consecutive singles by Sullivan, Alicea and Rathbun. O'Toole's run-scoring ground out scored one as did Arielle Cooper's squeeze bunt. The Tigers put two runners on in the seventh but couldn't score.

Sullivan and Alicea each had three of Eastern Connecticut's 11 hits, while Rathbun added two as the top three in the order went 8-for-9. Paris had two of DePauw's four hits.

Rathbun improved to 29-1, while senior Megan Soultz finished the season with a 29-7 record. Kristin Barrow pitched the final inning for the Tigers.
Soultz and Barrow, the lone seniors on DePauw's team missed today's commencement exercises which were taking place at the same time in Greencastle. The two were part of teams which combined for a 149-28 record, finished in a tie for fifth in Division III in both 2007 and 2010 and advanced to the "if necessary" game of regional play in 2008 and 2009.The 2007 and 2010 teams each won a school-record 40 games.
Soultz, a three-time all-America choice, finished her career with a 113-24 record and a 1.19 earned run average, while Barrow was 16-2 with a 1.40 ERA.
Follow DePauw Athletics on Twitter | Become a Fan of DePauw Athletics on Facebook
Back