Broadcast Audience Still Appealing to Sponsors, Prof. Jeff McCall '76 Tells Ad Age
May 24, 2010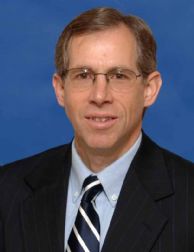 May 24, 2010, Greencastle, Ind. — "Reaching a broad audience is still important for advertisers of a wide variety of products, including cars, electronics, household products, restaurants and others," Jeff McCall, professor of communication at DePauw University, tells Advertising Age. Dr. McCall is cited in an article which asks, why are advertisers still spending billions of dollars to run spots on prime-time network TV shows, where the median age of viewers is nearly 51? Sponsors typically covet the 18-to-49 demographic.
"The need for these products reaches across wide demos and broadcast television still brings those," McCall tells the publication. "And the older demos likely have a few more bucks to actually spend."
Access the complete story by Brian Steinberg at Ad Age's Web site (a subscription may be required).
A 1976 graduate of DePauw, Jeffrey M. McCall is author of Viewer Discretion Advised: Taking Control of Mass Media Influences and has been cited in articles published by more than 100 newspapers. On May 18 in Broadcasting & Cable, he discussed the
possibility of Federal Communication Commission intervention on behalf of struggling broadcast news organizations. On May 10, he talked with Advertising Age about a move toward measuring the "engagement" of TV audiences. The previous day he was quoted in a Mediaweek article on cable television's History Channel and was cited in an April 29 Los Angeles Times story on the ratings decline experienced by American Idol.
Source: Advertising Age
Back