Path to Becoming Clemson's Head Coach Began Here for Brad Brownell '91
May 25, 2010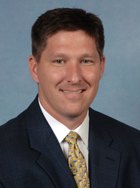 May 25, 2010, Greencastle, Ind. — "It began on a couch in Greencastle, Indiana. That's where Brad Brownell started an incredible journey, one which has led him to Clemson, and the ACC, and an office in the Jervey Athletic Center big enough for a nice couch of its own," reports South Carolina's Anderson Independent Mail on Brownell, a 1991 graduate of DePauw University, who was recently named head men's basketball coach at Clemson University.
Greg Wallace writes, "Fresh out of Division III DePauw University, Brownell was at the very bottom of the coaching profession -- taking graduate classes at Indiana State while preparing to be a DePauw graduate assistant. Every Division I coach starts somewhere, and Brownell's 'somewhere' was the couch of Todd Sturgeon ['88], a DePauw assistant. Most of us who have spent a night on someone else's couch come away with a unique feeling of unrest and the desire to do better. That desire drove Brownell on his rise through the Division I ranks," from the University of North Carolina - Wilmington to Wright State and now to Clemson.
"Having been a graduate assistant, I've done everything from sweep the floors to do the laundry, everything there is to do," Brownell tells the newspaper. "Go get the meals, pass out the meals -- everything you can imagine, I've done. And I've never stopped doing some of that."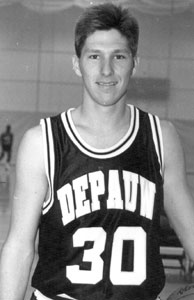 Wallace relates, "A 6-3 point guard, Brownell knew his place as a passer, the kind of guy who could get a key steal and play some pressure defense. But he wasn't afraid to take over when the occasion called for it. Late in his junior season, DePauw was in a game it needed to win to make the national tournament. Late in that game, guard Brett Crist, still DePauw's all-time leading scorer, ran the top of the key, looking for the ball. Brownell just waved him off, back down the baseline -- and took his bigger, slower man to the hole for a basket."
Royce Waltman, who coached Brownell at DePauw and hired him as an assistant after he graduated, says, "I told my wife after he was just with me a couple months, 'Brad's going to be a star. If someone takes a chance on him, Brad's going to be a star.' He was smart, understood basketball, had the will and discipline."
You'll find the complete article at the Independent Mail's Web site.
Learn more about Brad Brownell in this recent story.
Back