Once More, To Old DePauw
May 26, 2010
The Class of 2010 will remember many things when they look back on their commencement, May 23, 2010, a day when celebratory garb doubled as sunblock.
They will remember their friend and classmate Nicole C. "Nikki" Craker, who spoke of the many changes during their time at DePauw. Craker is this year's recipient of the Walker Cup, which recognizes the senior student judged to have contributed the most to DePauw during his or her four-year college career.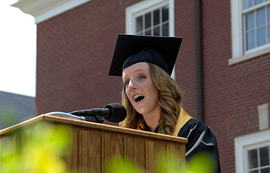 The winner of the Walker Cup traditionally speaks on behalf of the graduating class during the commencement program.
"Our four years at DePauw have been a time of transition and change which has given us a unique opportunity to make a lasting impact on our school," she said. "We have witnessed the construction of the Prindle Institute for Ethics and the remodeling of the Green Center for Performing Arts. We have gotten to know and have gotten to complain to two University presidents. We helped hire the campus planning firm that will continue to reshape this campus for years to come."
A biology major and Honor Scholar, Craker was DePauw's student body president this academic year. She has served as a mentor to first-year students, and as a member of the Student Life and Academic Atmosphere Committee and on the Campus Planning Committee.
"Today and tomorrow, as we finish packing all of the unnecessary items that we swore we would need in college and head back to the different states and countries from which we came, we must remember that while we are leaving Greencastle, DePauw will stay with us," Craker maintained. "We have done a lot for DePauw, but DePauw has done a lot for us. Here we have learned not only skills but how to think, how to examine, and how to question. We have been given the tools necessary not only to succeed in our own pursuits but to inspire others to do so as well."
The Class of 2010 will also remember scientist and conservationist Wallace "J." Nichols III for challenging them to go into the world as lovers and fighters -- and for his gift of a blue marble.
Nichols, a 1989 DePauw graduate, is a research associate at the California Academy of Sciences, a senior research scientist at the Ocean Conservancy, and is responsible for pioneering research on the migration of sea turtles.
Nichols' visit was unexpectedly topical. He was chosen to give the primary address to this year's graduating class just weeks before the explosion of the Deepwater Horizon drilling rig. Millions of gallons of crude oil have since spilled into the Gulf of Mexico, a habitat for five of the world's seven sea turtle species. His commentaries on the spill have appeared on Discover magazine's Web site and on The Huffington Post, and he is featured on the June 2010 cover of Experience Life magazine.
He noted that the Class of 2010 has demonstrated great love for their parents, their college and their planet. "But you're also fighters," Nichols stated. "You've fought hard to reach this day, to graduate from college after almost two decades of schooling. You've fought to make your campus cleaner and greener and your world more just. On campus, in the classroom, on the tracks, the courts and playing fields, as you travel the world, you fight for what you believe. For what you want. You fight for the things you love. That's why you are lovers and fighters."
Each member of the audience received a blue marble as a gift from Nichols. He asked the crowd, "Hold it at arm's length. Peer through its glass. From a million miles, Earth -- our home -- would look about the size of that small blue marble."
"On this blue marble we call Earth, every being who ever lived was born and finished their lives," Nichols said. "Every mother and father. Every hopeful child and college graduate. Every oil executive and environmental activist.
Every dinoflagellate, every dinosaur, every sea turtle, every mountain lion. Every single burst of passion and firing neuron that fights for what it loves has lived on just one planet. This lone, beautiful blue marble spinning in the vast emptiness of space; this Earth -- our one and only blue marble -- is where we must make our stand."
The 485 members of the Class of 2010 will remember much of that day, from inspiring words to oppressive heat. But, like the 170 graduating classes that came before them, they will above all remember the feelings of joy and sadness, relief and anticipation as one journey ended and a new one began.
2010 Commencement Media
Photo Gallery 1 | Photo Gallery 2 | Photo Gallery 3 | More Photos...
Order the 2010 Commencement DVD
Back