Mary Meeker '81 to Again Present at Web 2.0 Summit
May 28, 2010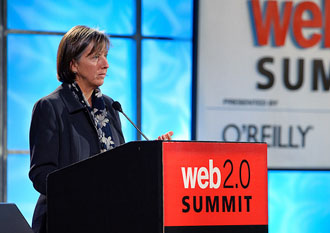 May 28, 2010, Greencastle, Ind. — Mary Meeker, managing director of Morgan Stanley and 1981 graduate of DePauw University, will be among the featured speakers at Web 2.0 2010. The theme of this year's event, which will take place November 15-17 at the Palace Hotel in San Francisco, is "Points of Control: The Battle for the Network Economy."
Other confirmed presenters at the event include Carol Bartz, CEO of Yahoo!; Reed Hastings, CEO, president and chair of Netflix, Inc.; Jeff Weiner, CEO of LinkedIn; musician and producer will.i.am; and Evan Williams, CEO of Twitter, Inc.
"We're proud of the role that the Web 2.0 Summit plays each year in gathering leaders of the Internet Economy to debate and determine business strategy," says John Battelle, Web 2.0 Summit program chair. "Fifteen years and two recessions into the commercial Internet, it's clear that our industry has moved into a new competitive phase -- a 'middlegame' in the battle to dominate the Internet Economy. To understand this shift, the Web 2.0 Summit program will focus on the chess game in which all of these companies are now engaged, a battle to gain the upper hand."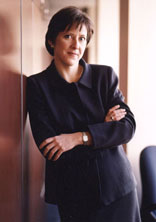 Access further details by clicking here.
Meeker, who serves as leader of Morgan Stanley's global technology research team, discussed the explosive growth of mobile technology at last year's summit. Read more in this story.
After earning a B.A. from DePauw, where she majored in psychology, Mary Meeker received an M.B.A. in finance from Cornell University.
On October 6, 2001, she addressed the Symposium for DePauw Entrepreneurs. A summary which includes video and audio clips from that presentation can be accessed here.
Back