Tigers Bow out in NCAA Opening Rounds
May 28, 2010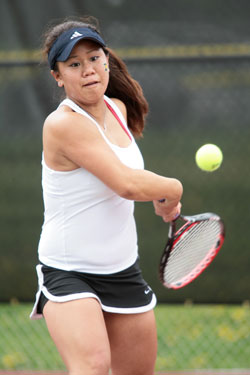 May 28, 2010, Fredericksburg, Va. — Three DePauw student-athletes competed at the NCAA Division III Singles and Doubles Championships at Mary Washington College. Complete details are available at the official site.
Junior Janelle Arita (pictured) dropped a first-round decision to Courtney Chin of Carnegie Mellon by a 6-0, 6-2 score. Arita finished with a 17-7 singles mark this season and is 66-26 in her career.
Seniors Kayla Smith and Greer Mackie dropped their opening-round match to second-seeded Lorne McManigle and Zahra Dawson of Emory by a 6-3, 6-2 score and finished the season with a 23-7 record and were 45-16 together in their careers.
Follow DePauw Athletics on Twitter | Become a Fan of DePauw Athletics on Facebook
22-9
Back