Prof. Bob Steele '69 Sees "Competing Loyalties" for NFL Reporter/Trainer
May 31, 2010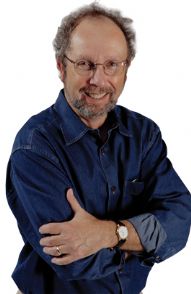 May 31, 2010, Greencastle, Ind. — "To football fans, Jay Glazer is the shaved-headed, goateed NFL reporter for FOX Sports," begins a New York Times story which quotes a DePauw University professor. "To some of the league's players, he is their mixed martial arts trainer. Earlier this month, Glazer's worlds intersected vividly when one of his clients, Brian Cushing, a Houston Texans linebacker, tested positive for a banned substance and was suspended for four games," writes the Times' Richard Sandomir.
Reporting on a person who you train creates "competing loyalties," Bob Steele, director of DePauw's Janet Prindle Institute for Ethics, tells the newspaper. "You can only scrutinize what he reports. But you can't scrutinize what he does not report, so we don't know what he didn't ask an athlete," says Dr. Steele, who is also Eugene S. Pulliam Distinguished Visiting Professor of Journalism at the University. "He might be
making legitimate journalistic choices, but you can't tell because you can't see beneath the surface."
Access the complete text at the Times' Web site.
A 1969 graduate of DePauw University, Robert M. Steele is one of the nation's leading media ethicists. He was cited last month in Texas' Sherman Herald Democrat as well as a March 26 Editor & Publisher article and a February 16 Associated Press report on the New York Times' reporting of the capture of a Taliban leader. Steele also serves on the faculty of Florida's Poynter Institute for Media Studies.
Source: New York Times
Back