Rev. Raymond Brown '48 Recalls His First Car in Newspaper Column
June 1, 2010
June 1, 2010, Greencastle, Ind. — "When I was a senior at DePauw in Greencastle, Ind., in 1947, I was going to be appointed to a student church in Gosport, Ind., about 15 or so miles from the college. I needed a car, which was very hard to get," writes Raymond P. Brown in today's St. Petersburg Times. A retired United Methodist pastor and 1948 graduate of DePauw, Rev. Brown contributes to the newspaper's "My First Car" column, noting, "my father, who was a minister in New Albany, found that a neighboring pastor had one for sale."
Brown tells of purchasing the vehicle, a 1936 Chevrolet. "It probably had over 200,000 miles on it," he writes. "But it was a car! And I soon learned its problems. One was a habit of blowing out the 'freeze plug,' which drained all the coolant out of the engine when you got it above 50 mph."
The pastor was an English major at DePauw and earned his Masters of Divinity from the Boston University School of Theology. Brown recounts one episode while driving on U.S. 40 with his fraternity brothers, and another that sealed the Chevy's fate. "My girl (who became my wife two years later) and I were out about a mile or two from campus on a school night during the half-hour when female students were allowed out of their dorms or sororities for a snack date. After a few hugs and kisses, we were heading back to town when smoke began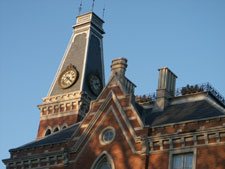 to pour out from the hood. I jumped out, raised the hood and then saw the smoke was coming out of the cowl vent. Looking under the dash, I found that the ignition cable had burned out. In a couple of minutes a truck came along and I heard, 'Hey, do you need help?' Boy, did I! When he heard my problem, he said he was a mechanic. He needed wire, but didn't have any. All I had was an old table lamp from which he snipped off the cord and wired it in place so the car started. He wouldn't take the $5 I offered. Within a month, my father got me a low-mileage 1937 Dodge. He also sold the Chevy. I have often wondered how long that car ran with the lamp cord for the ignition cable."
You'll find the complete column at the Florida paper's Web site.
Back