Indianapolis Star Recaps McDermond Lecture by Brad Stevens '99
April 14, 2010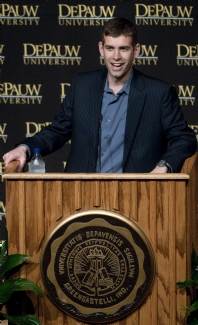 April 14, 2010, Greencastle, Ind. — Brad Stevens, head men's basketball coach at Butler University, "returned Tuesday to his alma mater, DePauw University, and drew a noon-hour crowd of about 875 to Kresge Auditorium on a campus of 2,400 undergraduates," writes David Woods in today's Indianapolis Star. "He had agreed last August to speak to students in the Management Fellows program" and the speech was to take place in the ballroom of the Memorial Student Union building, "but the venue was moved because of heightened interest. Stevens joked that if the Bulldogs had lost to Murray State in the second round -- Butler won 54-52 -- that he would have had about 80 in attendance."
Tuesday's event was supported by the Timothy and Sharon Ubben Lecture Series.
As it happens, Stevens and his Bulldogs advanced to the championship game, losing a thriller to Duke University, 61-59, nine days ago.
"On the most important class he took at DePauw, a course on servant leadership, which he suggested should be required of all students: 'The best way to lead is to step up and do something for somebody else,'" writes Woods. "On the value of listening to advice you might not want to hear, he cited Mary
Dixon, one of his economics professors who was in the audience. She told him, 'Brad, if you want to do anything, you better start doing the things you don't like to do.' Stevens described himself as a stubborn student, a characterization that Dixon said was accurate. On the other hand, she said: 'He doesn't get moved away from what he believes is right.'"
The Star journalist adds, "Stevens, 33, demonstrated he could have a second career in public speaking. Mixing humor with philosophy, life lessons, authors' quotes and bit of basketball, he received standing ovations before and after his 45-minute address."
Read more at Indy.com.
Brad Stevens was an economics major and Management Fellow at DePauw. Further details can be found here.
Back