ISO Principal Violinist to Join Prof. Eric Edberg in Wednesday Concert
June 7, 2010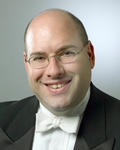 June 7, 2010, Greencastle, Ind. — "Indianapolis Symphony principal violist Michael Isaac Strauss will be joined by ISO violinist Patrick Dalton-Holmes and DePauw cello professor Eric Edberg on Wednesday for the second concert of the 2010 Greencastle Summer Chamber Music Festival," reports today's edition of the Banner-Graphic. The concert will take place Wednesday at 7:30 p.m. in the sanctuary of Gobin Memorial United Methodist Church. Admission is free, but donations are accepted.
"We're experimenting with concert format," says Professor Edberg, who serves as the festival's artistic director. "A lot of people think classical music is boring or stuffy, and we're out to change that. I challenged the audience last week, asking that each of us over 50 invite someone under 40 to attend. This is great music, played with energy and passion by first-rate professional musicians."

The text notes that Strauss (pictured at top) is a former member of the DePauw School of Music faculty.
Read more at the newspaper's Web site.
Back