DePauw Accepts Invitation to Join North Coast Athletic Conference
June 9, 2010
June 9, 2010, Greencastle, Ind. — DePauw University will join the North Coast Athletic Conference (NCAC), effective July 1, 2011, President Brian W. Casey announced today. NCAC officials had invited DePauw, which has been a member of the Southern Collegiate Athletic Conference (SCAC) since 1998, to join the conference, which includes Allegheny College (Meadville, Pa.), Denison University (Granville, Ohio), Hiram College (Hiram, Ohio), Kenyon College (Gambier, Ohio), Oberlin College (Oberlin, Ohio), Ohio Wesleyan University (Delaware, Ohio), Wabash College (Crawfordsville, Ind.), Wittenberg University (Springfield, Ohio) and the College of Wooster (Wooster, Ohio).
"After careful consideration of the advantages of membership in this conference, and of the adjustments that would be required in leaving our current conference, we have decided to accept this invitation," President Casey stated today.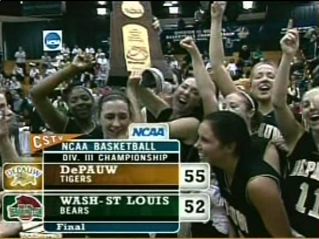 Twenty of DePauw's 21 intercollegiate athletic programs will move to the NCAC effective July 1, 2011, save for football, which already has a schedule in place for the next two seasons, and will enter the NCAC effective July 1, 2012.
According to Dr. Casey, "Many factors played a part in this decision. Chief among them was a desire for a less strenuous and more environmentally friendly travel regimen for our teams," noting that the NCAC membership stretches across Pennsylvania, Ohio and Indiana, while SCAC includes institutions in Texas, Mississippi and Colorado." The move to the NCAC, the president adds, aligns DePauw with "strong institutions with a similar focus on academic excellence and the overall development of the student with fewer strains on both schedules and budgets."
"Like the SCAC, the NCAC is committed to broad-based athletic programs, gender equity, and the campus integration
of student-athletes," says S. Page Cotton, Theodore S. Katula Director of Athletics at DePauw. "We are very excited about this new partnership, which is a great fit for DePauw."
President Casey has asked Cotton to coordinate the transition to the new conference.
"The North Coast Athletic Conference is home to many of the most outstanding undergraduate liberal arts colleges in the lower Great Lakes states," states Dale Knobel, president of Denison University and president of the NCAC. "We are as proud that all members host chapters of Phi Beta Kappa as we are of the high level of athletic competition that makes the NCAC one of the leading conferences in NCAA Division III. DePauw University already partners with other NCAC colleges in a variety of academic activities. It just seems natural that DePauw's student-athletes should now join their peers and friends of the NCAC on the playing field."

Learn more about the NCAC at the conference's Web site.
Founded in 1837, DePauw is a private, selective, coeducational, residential, undergraduate College of Liberal Arts and School of Music with an enrollment of 2,349. More than one out of every five students is a member of an intercollegiate team. The University's intercollegiate athletic history dates back to 1866. Today, the Tigers compete in 21 sports and have won five consecutive Southern Collegiate Athletic Conference all-sports trophies and six in their 12 years of competition, including the 2009-10 award.
Visit the official online home of DePauw athletics.
Back