Research of Prof. Dana Dudle in Journal of Experimental Botany
June 9, 2010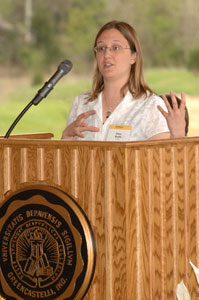 June 9, 2010, Greencastle, Ind. — A research article by Dana A. Dudle, associate professor and chair of biology, is published in the June 2010 (volume 61, vumber 10) issue of the Journal of Experimental Botany. Dr. Dudle contributes "Why some stems are red: cauline anthocyanins shield photosystem II against high light stress," which is co-authored by Kevin S. Gould of the School of Biological Sciences at Victoria University of Wellington in New Zealand, and Howard S. Neufeld of Appalachian State University.
The article is also the subject of the illustration on the journal's cover.
Access an abstract of the article at the Journal of Experimental Botany's Web site.
Professor Dudle received her B.A. in biology from Carleton College and Ph.D. in evolution, ecology and behavior from Indiana University. Her areas of specialty include evolutionary ecology, plant reproductive biology, and primary succession.
She joined the DePauw faculty in 1999 and has previously been published in Heredity and the American Journal of Botany, as well as the book, Removing Barriers: Women in Academic Science, Technology, Engineering and Mathematics.
Back