Professor Nic Pizzolatto
June 10, 2010
It's hard to pinpoint the moment when Assistant Professor of English Nicholas "Nic" A. Pizzolatto became a storyteller. It may have been when he was a young boy, creating his own comic books rather than just reading them. Or, many years later in 2003, when the first story he wrote for somebody other than a friend or a teacher, "Ghost-Birds," was published in The Atlantic.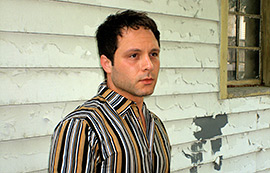 Whatever date marks the beginning of Pizzolatto's young career, it has been impressive. His fiction has appeared in publications such as The Oxford American, The Iowa Review and The Missouri Review. He has been a finalist for the National Magazine Award, and his collection of short stories, Between Here and the Yellow Sea, was named by Poets & Writers Magazine as one of the top five fiction debuts of 2006. Last year, his story, "Wanted Man," was featured in The Best American Mystery Stories 2009.
Pizzolatto's Louisiana upbringing colors his work. Many of his stories take place in the Deep South, but even those set outside the region, he says, share themes with other Southern literature.
"What I find unifies a lot of Southern literature, and what I find in my own work, is a spiritual urgency – a Gothic sensibility that weds the grotesque, humor, drama and violence," Pizzolatto says. "It has an attention to the rhythms and pulses of language, an affinity for bending and reshaping English combined with a vital storytelling tradition. It's a lot like Southern music that way, actually."
Galveston, Pizzolatto's new novel, is no exception.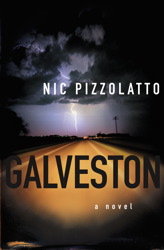 Booklist writes, "[Galveston] delivers a taut first novel suffused with a strong noir sensibility. Roy Cady is working as a strong-arm man for a low-level New Orleans gangster when two events change his life: he's diagnosed with terminal cancer, and his boss puts out a hit on him. Soon enough, Roy and a young prostitute, Rocky – thrown together after a blood-spattered encounter with the would-be hit men – are on the run, traveling from New Orleans to Galveston. 'Nothing ends well,' Roy muses at one point, and, of course, we know from the start that this road trip is on a collision course with disaster."
Galveston received a starred review in Publisher's Weekly, and it will be one of 13 books to be featured in stores nationally during Barnes & Noble's Discover Great New Writers program this fall.
Most reviews describe Galveston as Pizzolatto's debut novel, but that's only partly true. In January 2008, as he was editing the manuscript of a novel that would have been his first, he grew dissatisfied with his work.
"It had nice writing all over the place, but as a whole story that demanded to be told in the novel form, I thought it was lacking, so I pulled it from publication," Pizzolatto recalls. "I gave the money back to the publisher. I wanted to win an audience, and I didn't think that first novel would do that."
In the classroom, Pizzolatto has another audience in his students. Most of them don't share their professor's literary aspirations, but they're drawn to creative writing to try to capture and understand the power of a well-told story.
"I think the value of learning creative writing is the value of learning literature," Pizzolatto says. "I don't separate the two. I think that one of the reasons creative writing classes are so popular is that students are readers, and they want to be taught literature by writers."
"What's most rewarding is seeing a student's mind expand when they understand a principle or concept, or find an author who speaks somehow directly to them," Pizzolatto says. "It's like watching a soul creating itself. At such times, I like to think that I'm helping to make them aware of their language, and how powerful such a simple, basic tool can be. And I want them to know that anybody can do this. They can do this. It's not magic; it's only language, and it's their birthright."
Nic Pizzolatto's Galveston releases on June 15. Learn more about the book at Barnes & Noble.com.
Back