News Organizations Must Save Themselves, Opines Prof. Jeff McCall '76
June 12, 2010
June 12, 2010, Greencastle, Ind. — "It is one thing for the government to meddle in the banking or auto industries, but jumping in to fix journalism's problems is another," writes Jeffrey M. McCall, professor of communication at DePauw University, in today's Indianapolis Star. In an op-ed, Dr. McCall offers his thoughts on suggestions that have been made that the government step in to assist financially ailing news organizations.
"The ability of the press to independently scrutinize and report on government would be forever altered should Congress try to change the structure or financing of a free press," the professor declares. "Government involvement necessarily brings government strings. The press simply can't be a watchdog of government while relying on direct or even indirect federal funding."
McCall, the author of Viewer Discretion Advised: Taking Control of Mass Media Influences, insists, "Journalism does need to be saved. The Pew Research Center reports advertising revenue for newspapers, local television and radio,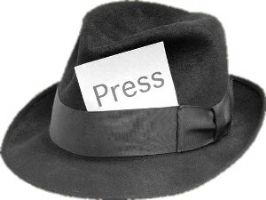 and network television fell substantially last year. Only cable news increased ad revenue. Thousands of reporting jobs have been cut, meaning that the public gets fewer stories and a compressed news agenda. That hurts our democracy. New trends such as citizen journalists and bloggers can't fill the gaps."
However, he maintains, "The saving of journalism should be led by the profession itself. Consumers abandoned traditional news outlets, in part, because of perceptions that the media are biased and sensational. The industry needs to reconvince citizens about the importance of news and demonstrate that they are not 'informed' just because they watch The Daily Show and spend hours on social networking Web sites. This won't be easy, of course, and will necessitate a cultural transformation, particularly for young citizens."
In summary, Professor McCall quotes former Federal Communications Commissioner Harold Furchtgott-Roth, who recently wrote, "As a country, we are richer with an impoverished but independent media than we are with more affluent but government-influenced media."
You'll find the complete essay, "News media, save yourselves," at College News.org.
A 1976 graduate of DePauw, Jeff McCall has been cited in articles published by more than 100 newspapers and has appeared nine times on FOX News Channel's O'Reilly Factor, most recently on May 24.
Source: Indianapolis Star
Back