Prof. Orcenith Smith Conducts Wisconsin Honors Orchestra
June 17, 2010
June 17, 2010, Greencastle, Ind. — Orcenith Smith, professor of music at DePauw University, has been invited to conduct the Wisconsin Honors Orchestra in preparation for the Orchestra's performance at the Wisconsin State Music Conference in Madison, Wisconsin this fall. Professor Smith will work with the 120 student musicians at a summer camp, June 23-26, at the University of Wisconsin - Green Bay.
"It is an honor to be selected to work with these students who have been guided so well in the music systems in Wisconsin," says Smith, who is music director of DePauw Orchestras and Opera. "The honors program has had long-term advocacy, and the students' music-making is always of the highest caliber."
The students will eventually perform four works at an October 28 concert, including The American Dream, which was composed by James A. Beckel Jr., adjunct professor of trombone at DePauw and principal trombone of the Indianapolis Symphony Orchestra.
"Selecting music for a concert with these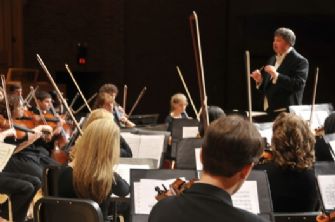 young people is about finding works that excite their their developing technique and musical intellect," notes Smith. "Jim Beckel's music has thoughtful construction, melodic interest, and driving energy -- perfect for this situation."
For more information on the Wisconsin High School Honors Project, click here.
You're also invited to visit the DePauw University School of Music online.
Back