Sadie J. McGraw '10
June 18, 2010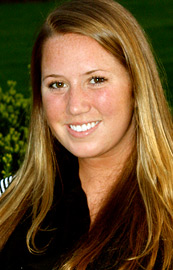 On January 12, 2010, a magnitude 7.0 earthquake brought the Haitian capital of Port-au-Prince to the ground. Sadie J. McGraw '10 remembers watching as the full extent of the devastation unfolded on live television.
"I was sitting in my sorority house, watching as people wandered around the city looking for their family and friends, and I felt powerless to do anything," McGraw says. "Winter Term was a time when I was commuting to an internship and feeling a little bit like I wasn't doing anything that made a difference. I wanted to form a connection."
It turned out that she wasn't alone. In the days following the earthquake, she and small a group of DePauw students and staff members formed Hope for Haiti, a campus organization dedicated to raising awareness of the tragedy. For the first time she could remember, McGraw took charge of something.
"I was always the type of person who was more of a committee member than a leader," McGraw says. "I've been part of a few groups, but never as fully committed as I was to Hope for Haiti."
Beginning with a silent auction during the men's and women's basketball games on January 22, the organization hosted fundraising and awareness events that continued throughout the spring semester.
"We were always asked if we had a fundraising goal, but with the economy been as tough as it is, we didn't expect people to be able to donate much," McGraw says. "It was always about raising awareness on campus for us."
Through karaoke fundraisers and benefit concerts, DePauw's community responded. The group's efforts even captured the attention of DePauw President Brian W. Casey, who pledged a pool party at his home to the student organization who donated the most.
By May, Hope for Haiti had collected more than $4,000 to aid victims of the earthquake.
"I was really excited by the amount of money we were able to raise, and how many events we were able to host," says McGraw, pictured with Hope for Haiti members Erin K. Sheek '13, Molly H. Nolden '10 and Emily M. Pence '10.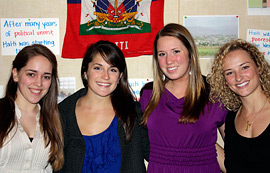 "I feared that interest would quickly fade in the weeks and months after the earthquake, but I was amazed by the support we received throughout the semester."
The Haiti earthquake wasn't the first event to shape McGraw's college life. As a freshman, she was all set to major in economics before discovering her love for writing in Associate Professor of English Rick L. Hillis' freshman seminar, Poetry of Song. McGraw was surprised; her high school English career had been less than remarkable, but the small college classes allowed her to be open with her writing in front of friends.
"You become so close with your classmates because you're putting so much of yourself out there on the page," McGraw says. "It's like sitting in therapy with ten other people. In taking those classes, writing became my passion."
"It's been an awesome four years," says McGraw, reflecting on her time at DePauw. "We're blessed here. We don't have a big city, but we're so entertained by each other. I will leave this place with more genuine friends than I could have ever imagined."
Back