Music of Two Faculty Members to be Featured on Performance Today
June 20, 2010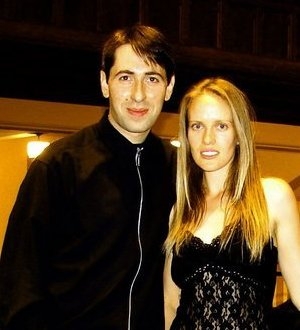 June 20, 2010, Greencastle, Ind. — Performances by two DePauw University School of Music faculty members will be featured tomorrow (Monday, June 21) on American Public Media's Performance Today, which is broadcast on 245 public radio stations across the United States and is heard by about 1.3 million people each week. Leonid Sirotkin, part-time assistant professor of music, and Ekaterina "Katya" Kramer-Lapin, an accompanist and part-time assistant professor of music, will be heard performing two songs by Francis Poulenc (Ce doux petit visage and C) as well as Claude Debussy's L'ame Evaporee.
On the selections, which were recorded February 12, 2009, Sirotkin performs on the English horn while Kramer-Lapin plays piano. Matthew Champagne, recording arts specialist at DePauw, captured the sound.
Leonid Sirotkin is a native of St. Petersburg, Russia, where he received his B.M. and M.M. from St. Petersburg State Conservatory. For almost a decade, he has been a principal English hornist with the Kirov Opera and Symphony Orchestra under Valery Gergiev and has toured internationally with the Orchestra performing at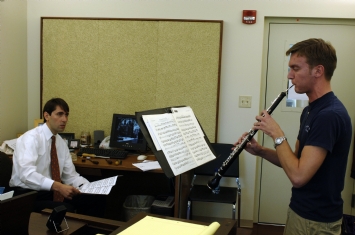 Carnegie Hall, Metropolitan Opera, Avery Fisher Hall, Kennedy Center, Covent Garden, La Scala, and Concertgebouw among other venues. He has performed as a soloist with Sofia Philharmonic Orchestra, Bogota Opera Orchestra of Theatro Colon, and Kuopio Symphony Orchestra. His chamber music festival appearances include Kuhmo International Chamber Music Festival, Finland, Kostamuksha Music Festival, Russia, Lucca Music Festival, Lucca, Italy. Sirotkin is a regular substitute player with the Cincinnati Symphony Orchestra, has recorded more than 35 compact discs with Kirov Orchestra and 5 CDs with the Cincinnati Symphony and Pops Orchestra, and published the book, Orchestral Excerpts for Oboe and English Horn from Operas and Ballets by Tchaikovsky. (above: Professor Sirotkin works with a student at the DePauw School of Music)
An active solo recitalist and chamber music collaborator, Katya Kramer-Lapin enjoys performing internationally. Her venues include appearances at the UNESCO Headquarters in Paris, France, Moscow Conservatory Hall, major concert halls in Germany and Eastern Europe, as well as concert tour to Taiwan.
Kramer-Lapin received her masters and performance diploma at Indiana University Jacobs School of Music. She began her piano studies at the Gnessin's School of Music in Moscow. Kramer-Lapin is the co-founder of the "Duo Amabile," a violin-piano duet with her husband, violinist Matvey Lapin, a former member of the world-renowned St. Petersburg String Quartet. She has earned first prizes in various competitions, including the Matinee Musicale and the Rudolf Serkin Piano Competition.
The two professors and their DePauw affiliation are noted on Performance Today's Web site.
To find out where and when the radio program is broadcast in your area, click here.
You're also invited to visit the DePauw School of Music online.
Back